In an interview with a Russian news agency, the CEO of Binance Changpeng Zhao has stated that DeFi is here to stay despite signs of a bubble.
As a reminder, the leading cryptocurrency exchange is a great supporter of the decentralized finance (DeFi) sector. Back in September, Binance created a CeDeFi initiative with the goal of bridging the gap between centralized and decentralized finance.
On November 17, Russia's RBC interviewed CZ and asked the young CEO questions regarding the present and future state of crypto. Upon being asked about DeFi, CZ answered with an optimistic, yet at the same time pessimistic answer. Specifically, he stated:
"a lot of DeFi projects are already in a bubble, and I also believe that there are some signs of a bubble in the DeFi industry, but this does not mean that DeFi will eventually disappear entirely."
According to the CEO, DeFi still has room for growth as it remains popular despite Bitcoin having more attention at the moment. While we saw bubbles in the form of ICOs in 2017, CZ reveals that some projects such as Binance have still survived and are doing great. Binance's founder added:
"Companies create new tokens, issue them as a reward. This is not a long-running story. But I think DeFi is here to stay. Even now, with Bitcoin's popularity rising again, DeFi is still popular. We think there is a lot of growth potential in DeFi."
Binance CEO believes that some DeFi projects 'may not last too long'
While the DeFi sector itself is still bullish, CZ believes that some projects may not last too long. There may have been innovativeness in DeFi, with several new designs such as yield farming and governance-based protocols but the number of such projects is too great according to some experts. If DeFi were to continue its exponential rise, we may have to see a bottom first and clear out the 'useless' projects first.
Within the same interview, the CEO talked about the cryptocurrency sector in general and called Bitcoin the "money of freedom for millions of people worldwide." His predictions revealed that the market of digital assets has the chance to grow up to 100,000%.
DeFi blue chips experience huge growth while Uniswap starts to struggle
At the time of writing, both cryptocurrencies and DeFi tokens are faring well in the market. Bitcoin has surpassed $17,000 for the first time in years, and DeFi blue chips are experiencing similar rising rates of growth.
Yearn Finance (YFI) and Aave (AAVE) have marched together with Bitcoin, rising tremendously in the past weeks. However, DeFi's favorite cryptocurrency UNI is struggling as a popular yield farming initiative has come to an end. Today, a UNI reward initiative that began in September has finally ended and $1 billion worth of ETH coins were unlocked.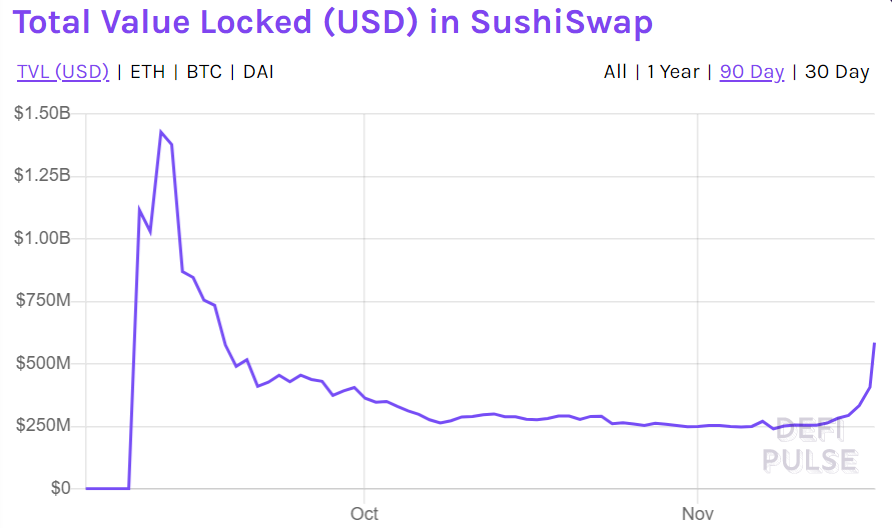 While many have believed that this would lead to a temporary dump in the price of ETH, a different situation has played out. According to market data aggregator DeFi Pulse, 48% of Uniswap's total liquidity has left the DEX in the last 24 hours. Now, the lost collateral flows into other higher APR protocols such as SushiSwap.
---
If you found this article interesting, here you can find more DeFi News