The global crypto market cap was threatened with a drop below the $1 trillion mark again as it was trading at $1.01 trillion. Bitcoin (BTC) declined below the $22k mark weeks after gaining an upward momentum. Ethereum (ETH) along with major altcoins traded in red.
The cryptocurrency market continued the bearish run since the weekend. Friday and Saturday saw massive drops in popular crypto prices. After touching the $3 trillion mark in November last year, the global cryptocurrency market cap has fallen by over $2 trillion.  There is a 50 per cent to 70 per cent drop in coin prices since their all-time highs. It seems 2022 triggered a perfect storm of unfortunate circumstances for the crypto market.
Crypto Market to Experience Another Sell-off Before Recovery

According to CoinMarketCap, the global crypto market cap shrank 1.84 per cent in the last 24 hours to $1.01 trillion. The total crypto market volume over the last 24 hours witnessed a fall of more than 26 per cent to $60.65 billion. In January 2022, digital assets tumbled below $2 trillion triggering a widespread panic. However, cryptocurrencies noted a slight recovery in April. The digital asset sector couldn't hold the momentum hitting a new low in June 2022 spiralling below below $1 trillion.
Bitcoin (BTC) declined 0.61 per cent in the last 24 hours to currently trade at $21,268. In the past seven days, Bitcoin prices have fallen more than 12 per cent. On June 15, Bitcoin (BTC) plummeted beyond 15 per cent as investors were spooked by the collapse of Terra/Luna and a major crypto lender, Celsius, freezing customer withdrawals. However, Bitcoin's dominance increased by 0.27 per cent over the day to 40.30 per cent.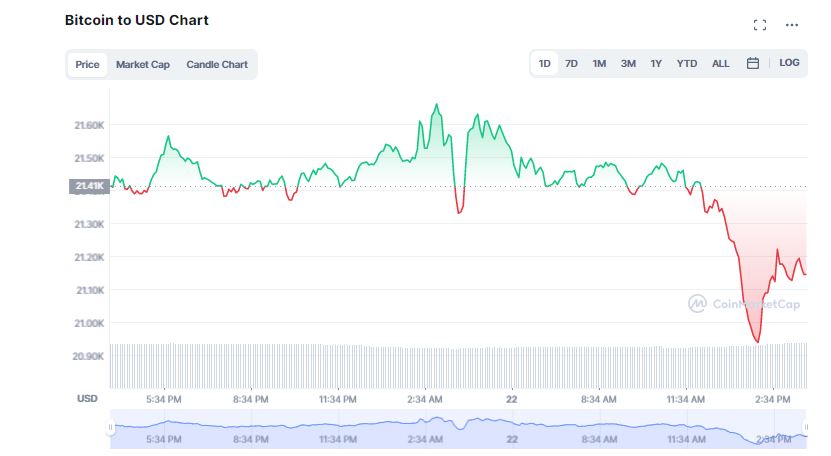 Bitcoin will likely enter a consolidation phase between the $18K and $25K levels in the long term. A breakout above $24K and $33K would be essential to officially get the ball rolling on a new bull market. Edward Moya, a senior market analyst at brokerage firm OANDA, suggested that the crypto market could still experience one more drastic sell-off before embarking on the road to recovery, with Bitcoin (BTC) dropping close to $10,000. He emphasized that, the next two weeks will help determine whether BTC has bottomed out yet.
Ethereum Still Choppy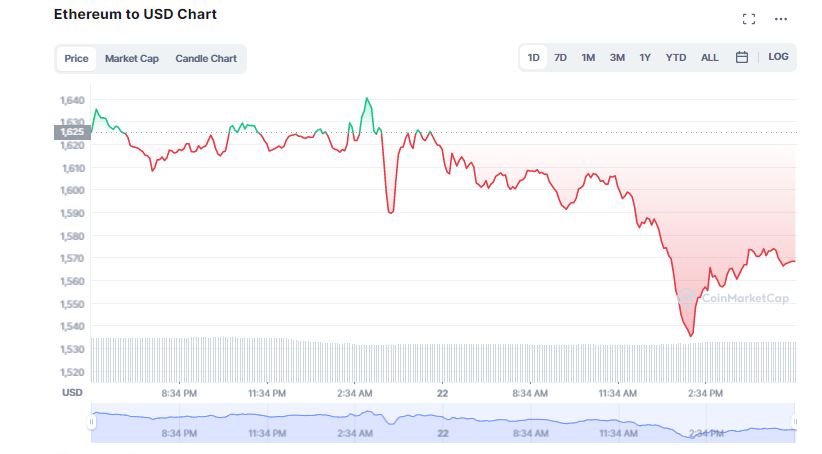 Ethereum (ETH) declined 2.63 per cent in the last 24 hours to hover at $1,576. As per data from CoinMarketCap, Ether prices have spiralled down by a whopping 17.21 per cent in the last 7 days. Ethereum (ETH) is currently between its support at $1,500 and resistance at $1,655. It has not accumulated enough strength to make a sharp move on either side. Edul Patel, CEO and co founder of Mudrex said,
"Even though BTC and ETH have lost their weekly gains, they managed to stay above their crucial support levels at $20,000 and $1,500 indicating that bulls have not given up yet. A move above the current level today, can result in BTC bouncing back to the $22,000 level. We may also see ETH trading sideways for coming few days."
Will Crypto Prices Remain Low in the Near Future?
Experts predict that crypto prices will likely remain low for the foreseeable future amidst a collapse in the market, layoffs, and the ongoing liquidity crisis in the crypto industry. They pointed to what past bear markets have looked like for crypto which experienced 85 per cent corrections from all-time highs and fresh concerns that the macroeconomic environment could get worse going forward. In a stament, crypto expert, Wendy O, said,
"We're in a full-blown bear market, not a bear cycle. Just because we see some positive price action doesn't mean we're out of the clear."
Meanwhile, other major digital tokens also registered losses as the bears seemed to grip the crypto market. Solana (SOL) and Avalanche (AVAX) tanked 3.92 per cent and 4.02 per cent in the last 24 hours, respectively. In the same time frame, Cardano (ADA) slipped over 2.70 per cent to currently trade at $0.4501. Popular memcoins, Dogecoin (DOGE) and Shiba Inu (SHIB) dropped in values ranging between 2 per cent to 4 per cent.