Bitcoin prices are down six percent in the last 24 hours, flash crashing earlier today. When writing, BTC is down 13 percent from August highs printed at around $25.3k.
As prices contract, the coin is trading below a critical support trend line and slipping beyond the rising channel and $22.5k, previous support now resistance.
Because prices are now trading below the primary support at $22.5k and today's bar is with high participation level, it could be an indicator that BTC could drop some more in the days ahead in a bear trend continuation formation.
The U.S. FED's Crypto Guidelines for Banks
The market-wide contraction is at the back of positive developments that the U.S. Federal Reserve (FED) is initiating.
In a recent statement, the central bank issued guidance for banks engaging with crypto assets. They acknowledged that cryptocurrencies present opportunities for banks, clients, and the financial system.
However, albeit their advantages, there must be sufficient measures to protect consumers and proper steps for financial stability.
Subsequently, regulated banks seeking exposure to crypto assets must always take precautionary steps, ensuring their actions are legal.
Required measures include putting in place proper risk management systems and control. By notifying the central bank of their intention, they will, given the FED's mandate, act per its regulatory powers and determine the appropriate action.
Bitcoin Price Analysis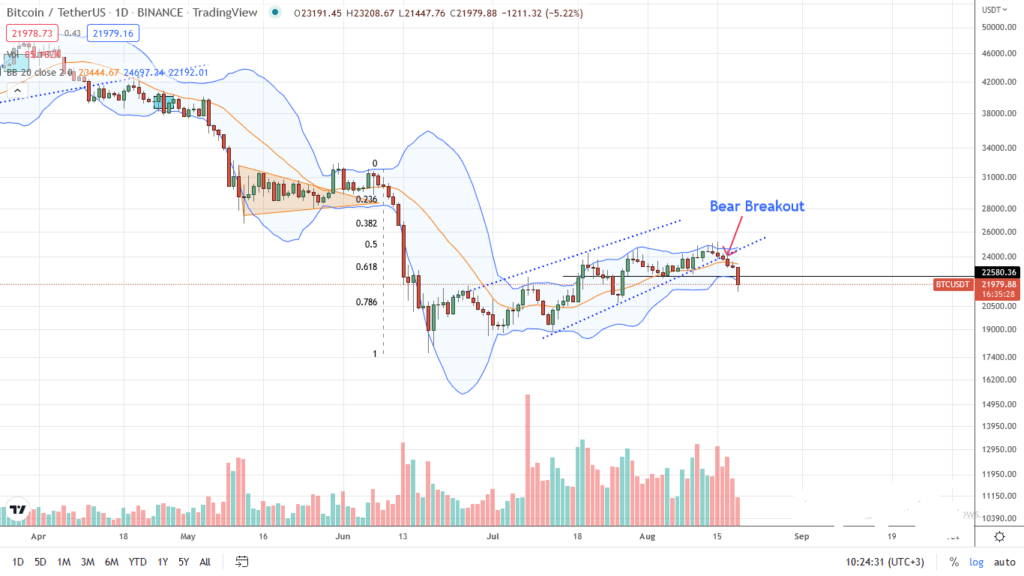 When writing, BTC prices are down six percent in a bear breakout formation below the rising channel.
As it is, bears are squarely in charge and today's bear bar is wide-ranging, an indicator of strong selling momentum. Additionally, it has high levels of participation, and indicator of strong conviction amongst traders.
Technically, aggressive traders may find opportunities to unload on every attempt higher towards in lower time frames. In a breakout formation below the rising channel defined from late June to early August 2022, their first target will be the primary support at $19k.
The odds of BTC further crumbling are elevated because of the failure of optimistic bulls to break above $25.3k earlier this week in confirmation of the July 27 bull bar. Therefore, if bulls fail to plug the drain going forward, BTC may break below $19k, in a bear continuation formation set in motion in early June 2022.
Technical charts courtesy of Trading View.
Disclaimer: Opinions expressed are not investment advice. Do your research.
---
If you found this article interesting, here you can find more  Bitcoin news.