Like the rest of the cryptocurrency market, Cardano flash crashed on August 19, dropping 23 percent from August 2022 highs.
Currently, ADA remains under pressure as buyers struggle to unshackle themselves from the grip of sellers established at the tail end of last week.
As per the formation in the daily chart, the bearish engulfing bar of August 19 could define the short-term price trajectory. The inability of buyers to reverse losses in the past two days is also bearish from an effort versus results perspective.
Based on the ADA candlestick arrangement, the path of least resistance is currently southwards. Therefore, traders can search for selling opportunities on every pullback towards $0.50.
Vasil Hard Fork Update
ADA is contracting because of the market-wide contagion, heaping pressure on crypto assets, including Cardano.
The capitulation in Bitcoin affected ADA, bringing down the coin and reversing valuable gains. However, the situation in Cardano could be dire because of a new revelation that the Vasil hard fork, after all, may not proceed as intended because its test net is "catastrophically broken". One of Cardano's developers, Adam Dean, said a bug had been discovered in Cardano Node v 1.35.2. Subsequently, other versions after 1.35.2 are incompatible and can't sync with the primary chain.
🧵 (1/n) It's important to point out today that the #Cardano #Testnet is **catastrophically** broken due to a bug in Cardano Node v 1.35.2. This was the version that we had previously been told was "Tested and Ready" for the Vasil Hardfork. This bug was only discovered…

— Adam Dean (@adamKDean) August 18, 2022
Charles Hoskinson has since come out to comment on Adam's concerns re-affirming that Vasil will proceed as planned. Later on, there will be "an extensive post-mortem of Vasil".
Now that I've had some time to reflect on the last 48 hours, I'd like to say a few things. First, the backbone of Cardano as a useful protocol is the SPO community. It's been a rough road for everyone over the last few years given that the infrastructure needs and experiences (1/

— Charles Hoskinson (@IOHK_Charles) August 20, 2022
Cardano Technical Analysis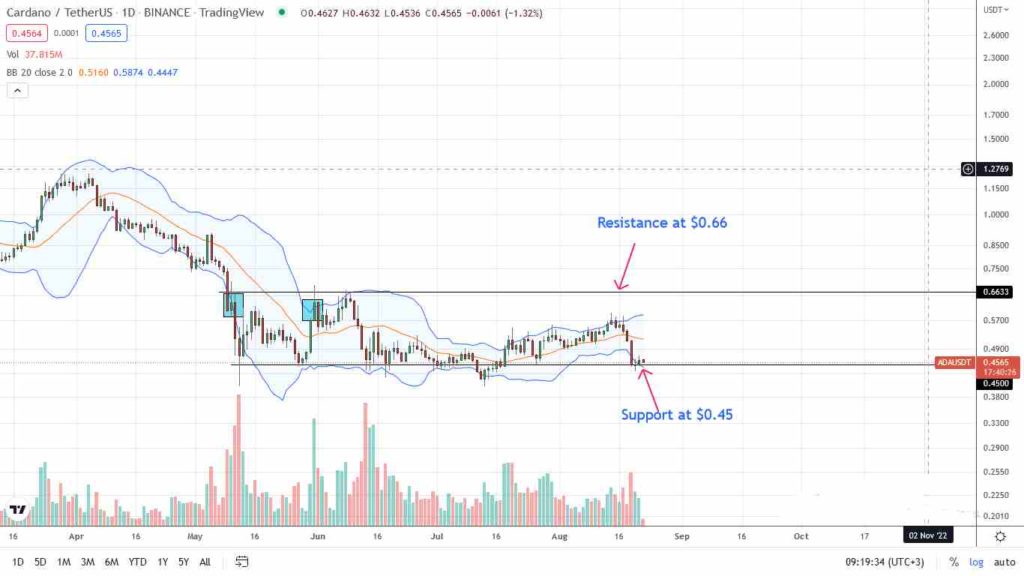 ADA is down 19 percent wee-to-date when writing, under pressure, and back in bear territory. Even though there are hints of undervaluation with bars of August 20 and 21 edging higher with relatively light trading volumes, bears are now in a commanding position. Notably, prices are rebounding from the 20-week moving average, clear in the weekly chart. The result is a wide-ranging bear candlestick wiping out gains made in the first half of August—a net bearish.
Technically, the loss of August 19 represented a bear breakout formation below the middle BB and from August 2022 highs, as visible in the daily chart. Subsequently, traders may search for unloading opportunities provided prices are below the August 19 highs of $0.50.
Any close below $0.45, especially, would be a trigger that may see ADA dump to $0.35, the April 20218 highs. Further losses below $0.35 may see ADA more than half, dropping to $0.15 in a bear continuation formation.
Technical charts courtesy of Trading View
Disclaimer: Opinions expressed are not investment advice. Do your research.
---
If you found this article interesting, here you can find more Cardano News