Solana [SOL] has emerged as one of the most lucrative coins in recent times with a strong narrative backing its viability. To cater to the growing demand for this altcoin, the Solana index was released on the 15th of November. After Bitcoin [BTC] and Ethereum [ETH], SOL has now become the third crypto with a standalone index.
Bloomberg LP and Galaxy Digital today released a new index to their suite of crypto-asset data products. The latest one is dedicated to Solana.
Galaxy Head of Europe Tim Grant announced the launch of the new Bloomberg Galaxy Solana Index and revealed that it is now live on the terminal. Interestingly, this happens to be the fifth index in the Bloomberg Galaxy family of indices. The collaboration of the two entities goes back to 2018. As the decentralized finance sector soared in tandem with the bull market, the duo launched an index focused on DeFi this August.
The five indices are:
Bloomberg Galaxy Bitcoin Index [BBG TICKER: BTC]
Bloomberg Galaxy Ethereum Index [BBG TICKER: ETH]
Bloomberg Galaxy Crypto Index [BBG TICKER: BGCI]
Bloomberg Galaxy DeFi Index [BBG Ticker: DEFI]
Bloomberg Galaxy Solana Index [BBG Ticker: SOL]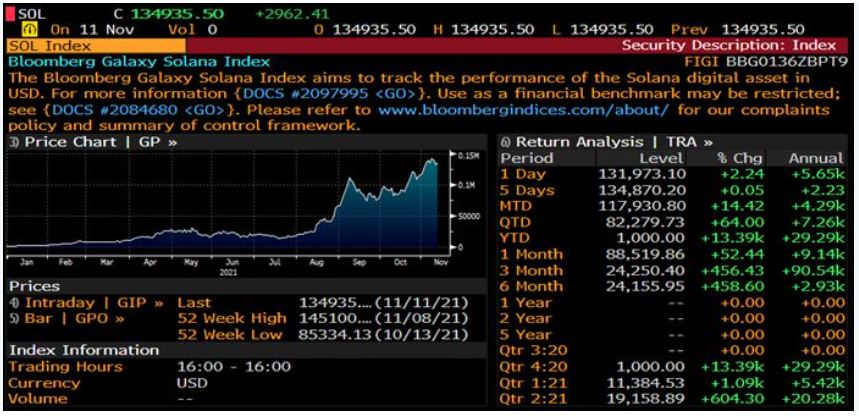 All Bloomberg's roughly 400k users worldwide will now be able to use. This marks our fifth index Bloomberg Galaxy Solana Index. Detailing on the index, Grant stated,
"In addition, the launch of this index has added significance as this is the first institutional-grade pricing source for Solana which will allow for registered Solana based products in certain jurisdictions that require a global pricing source."
How does Solana's [SOL] technical look?
As demand for Ethereum surged, other alternative projects also emerged in an attempt to compete. One such is Solana whose native token SOL has managed to capture the imagination of many investors. Despite the current market stagnancy, SOL was still up by well over 11,000% in the last year.
While comparing Etheruem and Solana, Matt Hougan, chief investment officer at Bitwise Asset Management had earlier said,
"A lot of the fastest-growing applications of crypto technology have been built on Ethereum and rely on the Ethereum blockchain to function. If you're investing in Solana, you're betting that its technical sophistication will help it leapfrog Ethereum."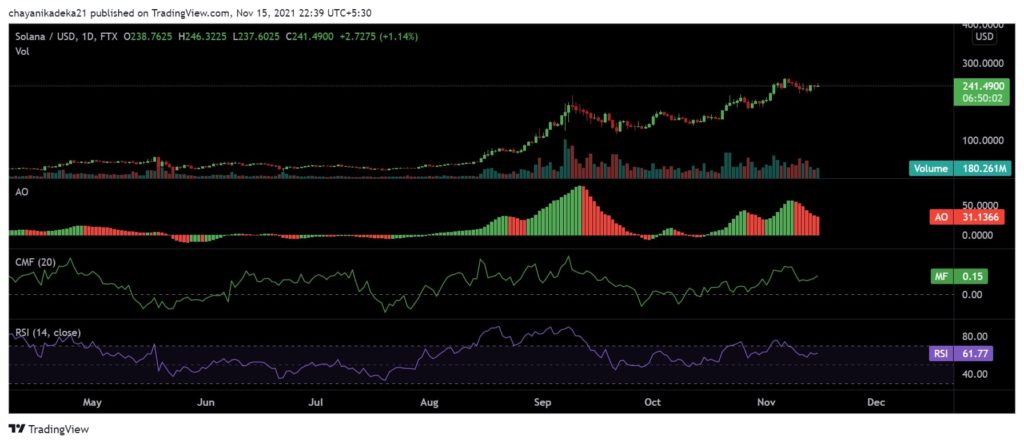 Over a very short duration, SOL has climbed up the leaderboard to acquire its position as the fifth-largest crypto by market value after surpassing the likes of Cardano [ADA], XRP, and Polkadot [DOT].
The short-term technicals look fairly optimistic while the trading volume remained consistent. The red closing bars of Awesome Oscillator [AO], for one, depicted a weak bearish momentum in the market. The Chaikin Money Flow [CMF], however, managed to cruise above the half-line indicating adequate capital inflow to the coin market. At 61.77, the Relative Strength Index [RSI] also projected buy signals.