Aeternity seems to be in no mood for lagging behind after announcing the addition of Base Aepp, Airgap wallet, an updated Aeternity blockchain explorer, and a bounty program for experienced developers. The Base Aepp and Airgap Wallet applications are usable on mobile devices and can operate on almost all mobile internet browsers.
Base Aepp
The Base Aepp provides a user friendly way for users to interact with different aspects of the Aeternity blockchain. With Base Aepp, users can explore Aeternity blockchain DApps (Aepps) as well as carry out Aeon (Aeternity's token) deposit and withdrawal transactions.
It also seems that this is far from the end of the road for the Base Aepp as the team clearly intends to upgrade the application in the near future. The application is expected to integrate new transaction and decentralized governance features including state channel transactions and voting, along with registration related features such as oracle operator registrations as well as name registrations. Another imminent power feature is the Aepp browser which will be integrated in the system to authenticate and explore other Aepps within the Aeternity blockchain.
According to the team's statement, the Base Aepp presents a pivotal feature as far as making the Aeternity blockchain accessible to the mainstream user is concerned.
Airgap wallet
The Airgap wallet provides an efficient option for transactions for users on Aeternity's live network. The application is currently usable on both Android and iOS and is available for a free download on the applications official website https://airgap.it/.
Users who managed to move their tokens during Phase 0 of the transition period through the Airgap option can now move their tokens from the vault into the wallet in order to commence a variety of transactions.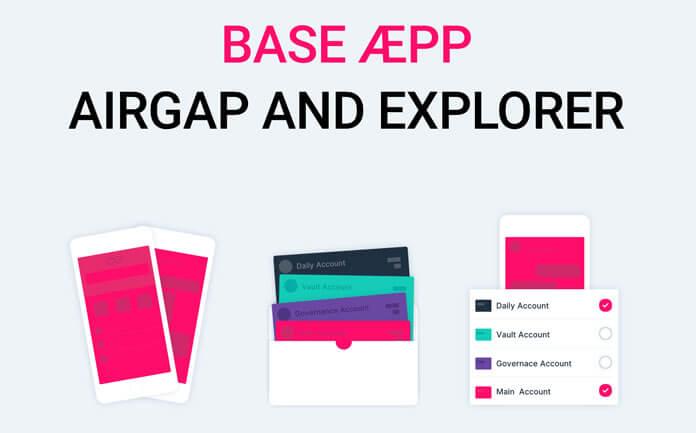 Aeternity Explorer Update
The updated Aeternity blockchain explorer offers a range of advantages to its users than its predecessor. The explorer is now furnishing users the ability to quickly check balances on the Aeternity network as well as access information relating to the blockchain's block generation. The explorer is also expected to see further improvements in the near future as developers are eyeing the incorporation of access to information relating to smart contracts through the application.
To involve the community in advancing the blockchain in terms of users' accessibility to information, the Aeternity team has organized a bounty program aimed at coming up with a variety of dashboards, which will provide users with important information relating to the state of the network. The open bounty program welcomes all users with experience and skill in web development to contribute to the blockchains development.