The native stablecoin of the Acala network, aUSD is quite close to regaining its peg with the US Dollar after a hacking attempt on August 14. The Polkadot-based decentralized finance (DeFi) platform has burned more than 1.2 billion aUSD tokens that were minted by hackers. These hackers exploited a bug in iBTC-aUSD liquidity pool of the platform.
The Acala network updated its community through a Twitter thread about the recent developments on the matter. It stated that more than 1.29 billion aUSD that were minted in an exploit have been returned to the Honzon protocol and burned. On Monday, Acala held a community vote to decide on the burning of these tokens.
The recently passed community governance referendum has now been executed.

1,292,860,248 total erroneously minted aUSD have been returned to the honzon protocol and burned.

Details in thread below ⤵

— Acala (@AcalaNetwork) August 16, 2022
The token's price fell by over 99% amid this hacking attempt. The community of ACA and aUSD panicked after the hack. However, immediate response from the network and developers have helped the coin to regain its lost value.
Acala's aUSD Makes a Comeback
Earlier this year, Acala launched its aUSD stablecoin project. The coin maintained its soft peg with the USD until this recent hacking attempt. After the attack, aUSD fell from $1.03 to under $0.009. However, the coin gained its value back after the burning of these illegally minted tokens. The chart below shows the price movement of the stablecoin in the last five days. At the time of writing, the coin is priced over $0.91.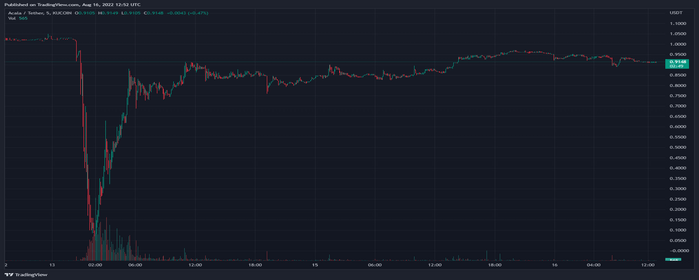 It was also reported by the developers that almost all of the exploited aUSD remained on Acala. However, a faction of these tokens was swapped to ACA and transferred out of the parachain. In addition to this, the Acala network said that they will soon give an update on the next round of trace reports.
Nonetheless, the protocol is trying to trace the swapped and transferred tokens. They will check the relevant transactions of the 16 wallet addresses and their token outflows. Earlier reports also suggested that the predicable loss of $1.6 million had a chance of recovery. Further reports from Acala will confirm the status of the assets.
Acala's aUSD is not the only stablecoin that has faced tough circumstances this year. There are other coins that felt jitters as they lost their $1 peg. One of the most significant incidents of this year was the crash of Terra's stablecoin, TerraUSD. On the other hand, Tether's USDT was also turbulent around the $1 mark for a while. However, it has maintained its stability.