That Ripple core products are on demand is not an understatement but facts. On numerous occasions, Ripple executives have appeared to shill the coin saying XRP is not decentralized and would soon be a dominant force in days to come.
Others as Brad and Marcus, CEO and SVP respectively had a rather upbeat view of Ripple saying more global banks would be incorporated into the Ripple network even as they explored the possibilities of entering the Chinese market.
Ripple XRP Fundamentals
The Senior Vice President of Customer Success at Ripple, Marcus Treacher was after all right. Earlier this year, he had projected that by the end of the year, Ripple products would be under demand but didn't mention anything about price.
As we have seen, it's an altcoin race to the bottoms and XRP, a product of Ripple Labs is one of the top contenders. How xRapid—the on-demand liquidity provider, xCurrent—the network payment processor and xVia—the network's payment access is overperforming without lifting XRP is mind boggling.
We can judge this from the recent announcement, collaboration and the many test programs putting to use Ripple products as xCurrent and xRapid.
In recent times, the company has been keen on forging relationships with corporates, crypto exchanges as well as banks in their bid to as they develop a working ecosystem around XRP by encouraging companies to adopt a wholesome solution that make use of XRP because of the obvious benefits as speed, transparency and cost cuttings.
This stand was recently reiterated by RBC Capital market, a global investment bank which is part of Royal Bank of Canada. In their Capital Market overview, they said Ripple Net is a new entrant into the space and could clip the dominance of traditional remittance providers as banks and remittance companies which users overseas tend to prefer despite the costs involved and the wait times that can take days.
They concluded that using Ripple solutions make processes more transparent—especially in market making and FX space and at the same time improves efficiency thanks to the network settlement speeds.
XRP Technical Analysis
Weekly Chart – Ripple Analysis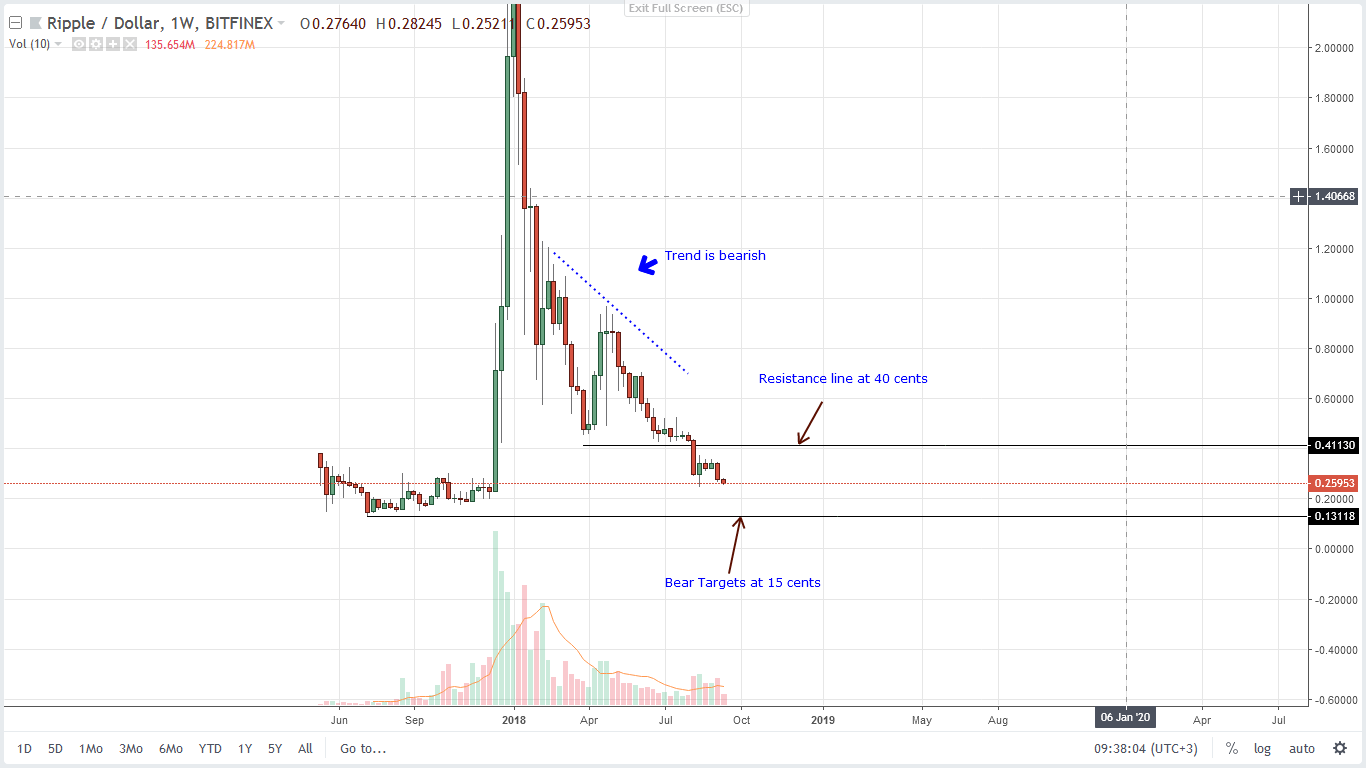 To gauge just how rampant sellers are, we can take a look at week over week losses where coin trackers indicate that XRP is down 22 percent.
That conclusion is clear from the chart and here, not only are bears in charge but are now trading below our minor support line of last week at 30 cents. Last week's rapid declines printing a nice high-volume bear candlestick did confirm week ending Aug 12 bear candlestick.
In that case, the best way to trade while taking clues from a top down approach is to take short positions on every pull back in lower time frames in sync with the bear break out pattern below 40 cents of Week ending Aug 12. Short term targets should be at 15 cents or Q2 2017 lows.
Daily Chart – Ripple Analysis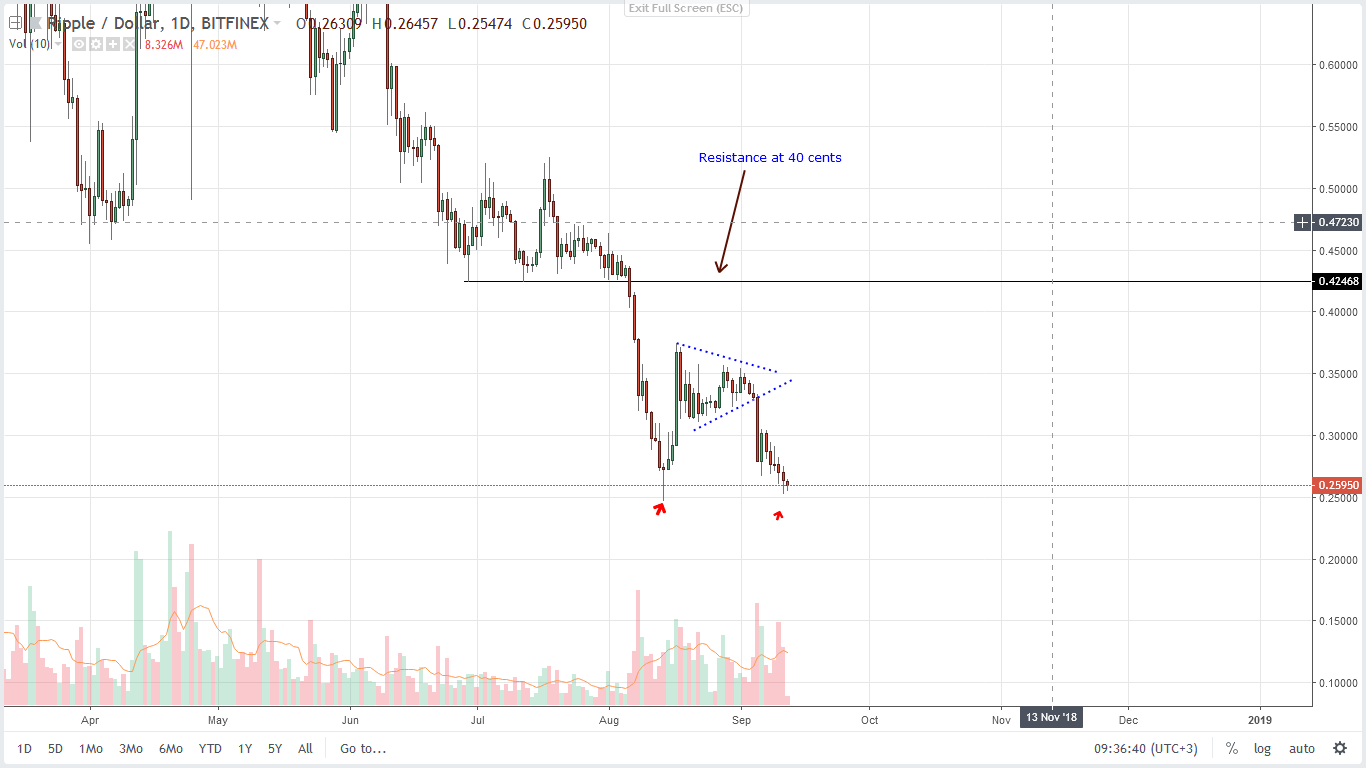 In the last day, XRP prices did drop three percent and following through on Sep 5 bear engulfing candlestick.
Going forward and considering that yesterday was bearish, conservatives can wait for a clear break below Aug 14 pin bar lows at 25 cents before ramping on shorts as directed before with targets at 15 cents.
In the mean time aggressive traders can initiate trades at spot price with stops at 30 cents and aim for a common target. However, traders who exited longs after Sep 5 candlesticks and took shorts can lock in profits and trade with our last XRP trade plan.
Disclaimer: Views and opinions expressed are those of the author and aren't investment advice. Trading of any form involves risk and so do your due diligence before making a trading decision.