Despite an ongoing cryptocurrency market rout, XRP has continued to rally in both the daily and weekly charts. The price surge comes amid growing rumors that Ripple will win the two year long legal battle against the United States Securities and Exchange Commission (SEC).
The chances of the lawsuit ending in Ripple's favor are looking better each day after U.S. District Judge Analisa Torres issued a much-awaited ruling on the parties' motions to preclude expert testimony in the lawsuit. Moreover, on March 8, prominent crypto lawyer John E. Deaton, took to Twitter to suggest that Ripple will bag a win against the SEC, as the years-long securities legal battle draws closer to an end.
He further noted the SEC lawyers are more interested in advancing their own agenda than adhering to the law. In the series of tweets, Deaton also took a jibe against Federal Reserve Chair, Gary Gensler citing, "just because a regulator like Gary Gensler says something it doesn't make it so".
In Ripple, the judge said SEC lawyers are more interested in advancing their own agenda than adhering to the law. Think about how significant that is. How do SEC lawyers enforce the law if they don't themselves honor the law. As a former federal prosecutor, I'd be ashamed.

— John E Deaton (@JohnEDeaton1) March 8, 2023
XRP Gains as Major Cryptos Falter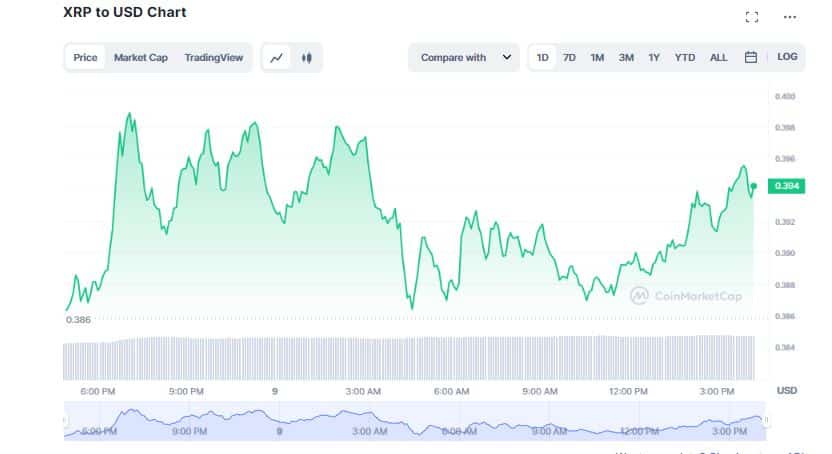 As expectations of Ripple's win against the SEC grow louder, XRP prices rallied even as the broader crypto market traded with losses. According to CoinMarketCap, XRP is up 2.28% in the last 24 hours to hover at $0.39. Over the past seven day, the digital token climbed nearly 4% as Whale Alert reported that large amounts of XRP moved wallets.
According to the data, almost 112 million XRP was transferred from address to address over a period of 24 hours. The biggest transaction recorded by the tracker has been of moving $58 million worth of XRP tokens across the whale wallets.
🚨 42,000,000 #XRP (16,098,744 USD) transferred from unknown wallet to #Bitstamphttps://t.co/RFvTG2uadX

— Whale Alert (@whale_alert) March 7, 2023
Will Ripple Clinch Victory?
Going forward, in a recent interview, Deaton, who is acting as the "amici counsel" for over 75,000 XRP holders in SEC v. Ripple case, claimed the SEC is going to lose but that doesn't mean Ripple's going to get an outright win either.
However, he also said that in the unlikely event that Ripple loses, the judgement would have far-reaching effects on cryptocurrencies. According to him, a win by the SEC would also shake up crypto exchanges such as Coinbase and Binance as it could mean they all brokered Unregistered Securities. Deaton added,
"I think the SEC is going to lose but that doesn't mean Ripple's going to get an outright win either. But I think the SEC is going to lose that summary judgment because of the theory that they went with."