As the years long legal feud between Ripple Labs and the United States Securities and Exchange Commission (SEC) is nearing its potential conclusion, XRP prices have skyrocketed, jumping more than 25% over the past one week.
According to CoinMarketCap, XRP is up 3,53% in the last 24 hours to trade at $0.48. Meanwhile, over the past seven days the cryptocurrency has jumped a staggering 24.22% as investors grow confident about the SEC case ruling.
In a long-awaited feat, XRP has cleared the $0.45 level for the first time since November 2022. The recent price surge can be attributed to the buying pressure among investors who seem to be bracing up for a potential Ripple victory in the legal battle with the SEC.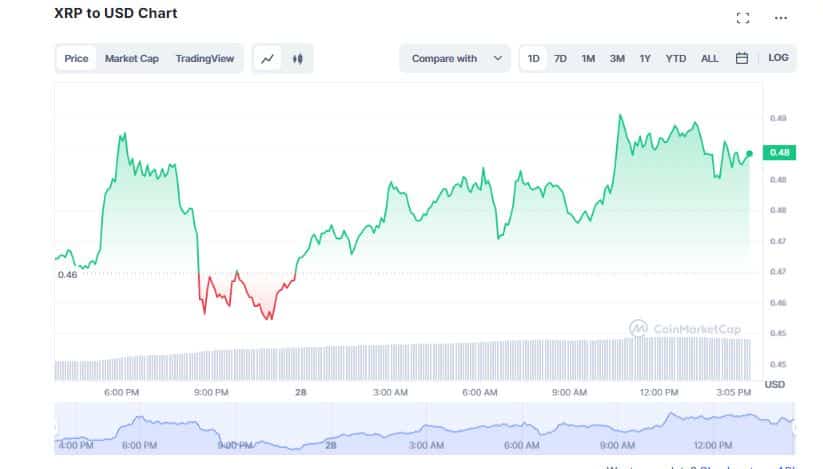 Why XRP is Soaring?
Moreover, XRP witnessed a price rally as Ripple published a notice on March 20 that cited a recent US Supreme court ruling concerning Binance.US' bid to purchase collapsed crypto lender Voyager Digital. The judge had summarily rejected the SEC's claims to label Voyager's VGX token a 'security' and BinanceUS, an unregistered securities exchange.
The recent Ripple notice has sent the positive perception surrounding XRP as some in the community said the classification of major tokens in the U.S. Commodity Futures Trading Commission (CFTC) filing against Binance could mean XRP tokens were commodities instead of a security, as alleged by the SEC. Another reason that may have contributed to the XRP rally is its XRP Ledger network that has seen fundamental upgrades in the past few months. In a January tweet, Ripple CTO David Schwartz had said,
"XRP is a raw good that trades in commerce and one XRP is treated as equivalent to every other XRP. That's pretty much the definition of a commodity."
Social Media Interest Propells XRP Price
Additionally, according to a recent report by market intelligence platform Santiment, XRP's social media dominance has been on the rise since the beginning of the year. The crypto social volume indicator as reported by Santiment measures the total number of social media text documents that contain keywords related to a given cryptocurrency.
👀 #XRPNetwork's social dominance is at its highest point in a year following the surge above $0.49 for the first time since Nov. 6. Added $XRP crowd recognition means more volatile price swings caused by increased volume & mainstream interest. https://t.co/bMT66JTwmT pic.twitter.com/pUIWe9vGKu

— Santiment (@santimentfeed) March 27, 2023
Hence, it seems, XRP prices gained momentum along with the increased volume & mainstream interest. Several crypto analysts have suggested the XRP price has experienced a strong weekly resistance level of around 200 MA. As a result, the bulls will have to push beyond $0.50 to overturn the 200 WMA to a support level.