XRP jumped more than 4% in the last 24 hours as the crypto community continues to pin its hopes on a potential Ripple victory against the United States Securities and Exchange Commission (SEC). Amid the ongoing legal feud, prominent Ripple advocate and legal expert John E. Deaton has recently made a bold prediction about the XRP Price.
On May 29, Deaton took to Twitter to confidently assert that a significant number of ambivalent investors will flock to accumulate XRP once the digital token surpasses the $1 mark. He also forecasted a significant price surge that will trigger a frenzy of buying, fueled by the fear of missing out (FOMO), after the digital asset breaches the $2 mark.
Deaton, who has emerged as a leading voice in the XRP community seems to be super bullish on the digital token as the chances of the lawsuit ending in Ripple's favor continue to look better each passing day. The pro-XRP lawyer tweeted,
"XRP sits at .48 cents and it's crazy to think about how many people, who refuse to buy it now, are going to buy it over $1. What's even crazier is that FOMO won't likely kick in until $2."
#XRP sits at .48 cents and it's crazy to think about how many people, who refuse to buy it now, are going to buy it over $1. What's even more crazy is that fomo won't likely kick in until $2.

— John E Deaton (@JohnEDeaton1) May 29, 2023
IS XRP Rallying To The Moon?
According to CoinMarketCap, XRP is up 4.75% in the last 24 hours to trade at $50. Meanwhile, over the past seven days, the digital token leaped more than 8%, signaling a strong buying pressure in the current market. It seems Deaton's optimistic comments align with other analysts who have been closely monitoring XRP's trajectory. Recently, Dark Defender, a pseudonymous cryptocurrency analyst predicted $1.3 as the target if XRP manages to cross the significant threshold of $0.50 by August.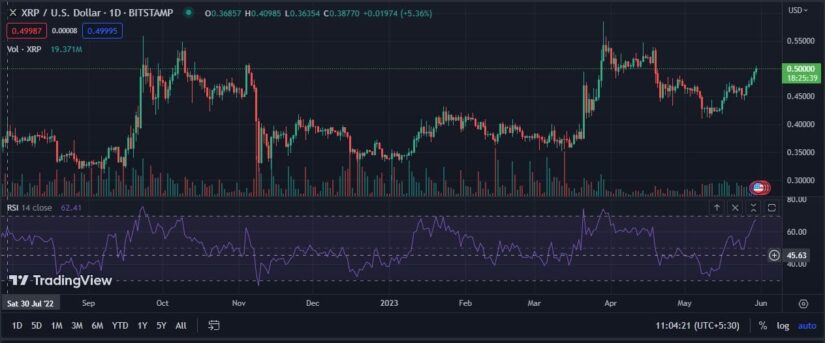 Furthermore, on May 27, another prominent crypto analyst, Ali Martinez, revealed a noteworthy trend in the XRP market, indicating a positive sentiment among prominent investors. He claimed that XRP whales had acquired a substantial quantity of the cryptocurrency over three weeks, totaling an impressive 52 million XRP tokens, equivalent to an approximate value of a whopping $22.9 million. The accumulation of such a substantial amount of XRP by these influential market players suggests a bullish outlook on the token.
Whales appear bullish on #Ripple! They've purchased over 52 million $XRP in the past 3 weeks, worth around $22.9 million. pic.twitter.com/8RWtFOigQb

— Ali (@ali_charts) May 26, 2023
Hinman Documents Unsealing Inevitable
This comes shortly after Deaton and Ripple CTO David Schwartz disclosed that unsealing William Hinman's emails is inevitable, even if the SEC settles with the blockchain company. Deaton and Schwartz both echoed the opinion that the authority to keep the emails confidential does not lie with Ripple. 
This is primarily because Judge Analisa Torres had previously ruled that the emails and drafts from the former director of SEC's Corporation Finance, Hinman, are judicial documents. They stated that the public's right to access these documents outweighs any potential settlement between Ripple and the SEC.
David is correct. Even if Ripple and the SEC settled today, the emails are coming out. @RoslynLayton's motion to intervene (to obtain the emails) was ruled moot b/c the emails are being unsealed. If the case settled today, the judge would need to revisit her motion.

— John E Deaton (@JohnEDeaton1) May 28, 2023
Possible Reasons For The Uptick
Besides the ongoing Ripple vs SEC legal battle, the XRP Ledger (XRPL), a decentralized blockchain technology supported by the San Francisco- payments company, has also pushed XRP's recent surge. On May 25, XRPL accomplished a major milestone, successfully closing 80 million ledgers in approximately 10.5 years. The development highlighted the efficiency, dependability, and growing acceptance of the XRP Ledger as a transaction processing technology within the Ripple network.
😮 #XRPNetwork has now had its 2nd & 3rd largest address activity spikes of all time these past 2 days. A mild +4% decoupling has emerged between $XRP & the #altcoin pack, and if history repeats itself from the March 18th activity spike, it could be more. https://t.co/601m4SYUOy pic.twitter.com/AF8k4qtPQv

— Santiment (@santimentfeed) May 30, 2023
Furthermore, the dramatic upswing can also be credited to the network activity on the Ripple network. As per data from Santiment, the XRP network has recorded two of the highest spikes in address activity in its history over two consecutive days. The data indicates a mild 4% decoupling from the rest of the altcoin pack, hinting at a possible upswing for XRP if it follows a similar trend to the activity spike it experienced earlier this year.