Latest Ripple (XRP) News
Behind Ripple is this one grand objective: Build a frictionless experience when sending money globally. Lofty and a bit ambitious, true, but fact is that they have been largely successful. Of course, that is not to say they have had resounding success in dislodging traditional players and in the process highlighting the massive benefits of the blockchain.
In an ideal world, Web3.0 supporters would gleeful thump their chest as a mark of success. But before then, it's not smooth sailings per say. Ripple Inc. and Brad Garlinghouse, the CEO may be registering pockets of success from time to time but the reality is that with every partnership announcement, XRP prices tend to dump.
Bag holders are livid about the whole thing. While BTC and ETH print higher, XRP is trending around end of 2018 prices. As such, a faction of XRP investors-and some have already filed a class suit action accusing Ripple Inc. and specifically Brad Garlinghouse claiming XRP was marketed as a security, are considering forking the blockchain.
The objective, the proposer says, is to prevent Ripple Inc. from "dumping" on them for profits. While it's a serious allegation that needs immediate addressing, the simple fact that Ripple Inc. is not the issuer of XRP but rather a majority owner of the third most valuable asset by market cap could be challenging.
Responding to these claims, Brad recently took to twitter clarifying that Ripple Inc. will always advocate for XRP adoption and that contrary to trending rumors, the company has reduced the liquidation of XRP on a quarter to quarter basis.
XRP/USD Price Analysis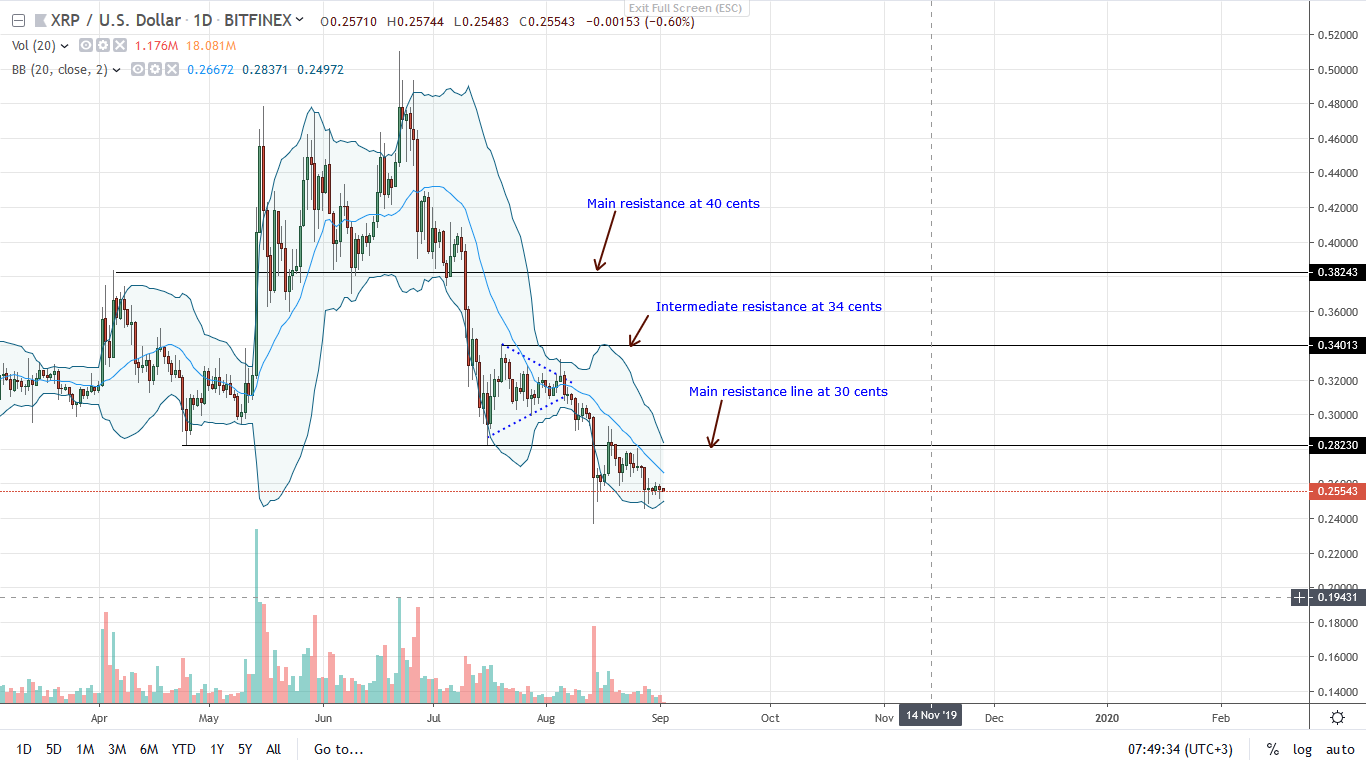 At present time, XRP, like most liquid coins, is under pressure. Relative to the USD and BTC, the coin is down 6.8 percent and 2.89 percent respectively but up against ETH in the last week. Nonetheless, while gains against ETH could fast-track a possible flipping, fact is, USD buyers are in charge.
Evident from the chart, USD bulls is trading in a bear breakout pattern against XRP, oscillating below a main support line-now resistance at 30 cents. Mentioned in previous XRP/USD price analysis, every high will technically be a selling opportunity unless otherwise there is a strong surge and close above 30 cents.
Behind this upswing should be a conspicuous wide-ranging bull bar with high trading volumes exceeding 82 million of Aug 14-the piercing bear bar. As it is, the first bear target will be Aug 14 low of 23 cents and later 17 cents as bulls, defined by Sep 2018 bar, are vanquished.
Chart courtesy of TradingView—Bitfinex
Disclaimer: Views and opinions expressed are those of the author and is not investment advice. Trading of any form involves risk. Do your research.