At the end of July this year, we witnessed the launch of WLD, the token of Worldcoin, a company created by Sam Altman, the founder of OpenAI, and one of the creators of the renowned ChatGPT. Yesterday, Worldcoin announced that it will pay its employees with WLD instead of USDC, causing a significant price drop.
After its launch, Worldcoin distributed 100 million tokens to the market, and an additional 34 million were allocated among users who registered through the iris scanning process and orb operators, who were responsible for assisting individuals during the registration process.
This leaves an approximate circulating supply of 134 million tokens, representing only 1.34% of the total supply of 10 billion. In order to ensure liquidity for the tokens traded on centralized exchanges, Worldcoin allocated 100 million tokens to five financial entities outside of the United States.
In addition to liquidity considerations, this allocation also aimed to ensure greater price stability.
WLD Facing Two Significant Events
Tomorrow, on October 24, the loans for these 100 million tokens granted to the entities will expire. World Assets Ltd, a subsidiary of Worldcoin, has decided to extend them until December 15, 2023, but with a 25% reduction, meaning a total of 75 million tokens. All other terms and conditions established in the initial loan agreement will remain unchanged.
The entities will return 25 million tokens out of the original 100 million granted, but they will have the option to repurchase them. In the original loan agreement, the repurchase price for these 25 million tokens was set based on a predetermined formula: $2.00 + ($0.04 * X), where X corresponds to the quantity of tokens purchased, divided by one million.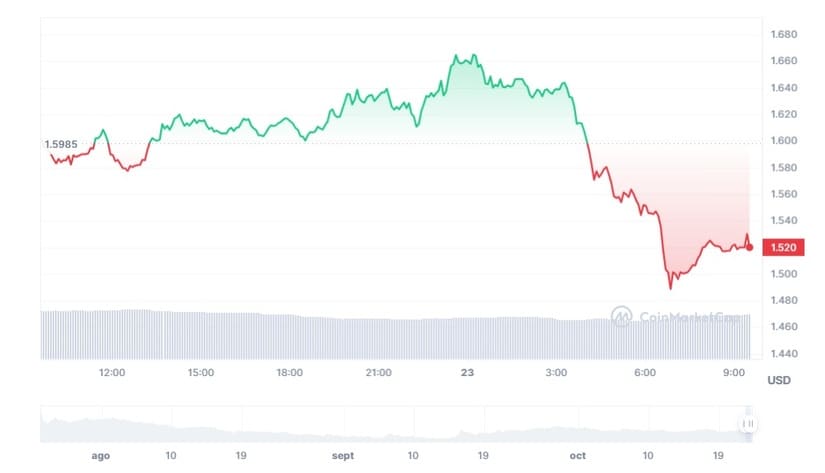 In addition to the conclusion or presumed renewal of this loan, WLD is approaching another significant event. It must compensate the orb operators who registered individuals, and they have decided to do so with their own token rather than with USDC.
These two specific events have caused significant fluctuations in the market price of the Worldcoin token in the past few hours.
After midnight on the 22nd, WLD had a value of $1.6649, but within 6 hours, it experienced a 10.57% drop, touching $1.4887. Subsequently, it underwent a slight recovery and is currently trading at $1.520.
Its market capitalization has decreased by 4.96% and settled around $204 million, while its trading volume in the last 24 hours reflects a 9.13% decrease, reaching $71 million.
To assess the future of WLD, we will have to await the outcome of the loan with its creditors, which will conclude tomorrow.