Latest Ethereum (ETH) News
Blockchain is all about decentralization and transparency. Implementation would bring about efficacy, efficiency and decentralization, which according to blockchain maximalists will eventually fizzle out the control-if not the power, of corporates gearing for profit maximization. While Ethereum quests for stability and a reliable world computer, there are challenges hampering their match towards perfection.
One of them is how to address the problem of scalability and prevent the network from being "full." Addressing this full concern would place Ethereum at a pole position for a possible enterprise grade investment from corporates.
Already, there are "boots on the ground." Not only do Ethereum attract the most developers, but several upgrades in the recent past means the network's coin will in years to come be scarce. EIP 1234 for example will see rewards drop and the shift from Proof-of-Work to a Poof-of-Stake system could possibly mean ETH is an alternative to Bitcoin as digital gold.
Set for full implementation by 2021, the progress to Ethereum 2.0 is already on. Today, Ethereum will be upgrading their testnet in readiness for the Istanbul upgrade scheduled for Oct 16, 2019.
Therein, these six EIPs will be activated:
EIP-152: Add Blake2 compression function F precompile
EIP-1108: Reduce alt_bn128 precompile gas costs
EIP-1344: Add ChainID opcode
EIP-1844: Repricing for trie-size-dependent opcodes
EIP-2028: Calldata gas cost reduction
EIP-2200: Rebalance net-metered SSTORE gas cost with consideration of SLOAD gas cost change
ETH/USD Price Analysis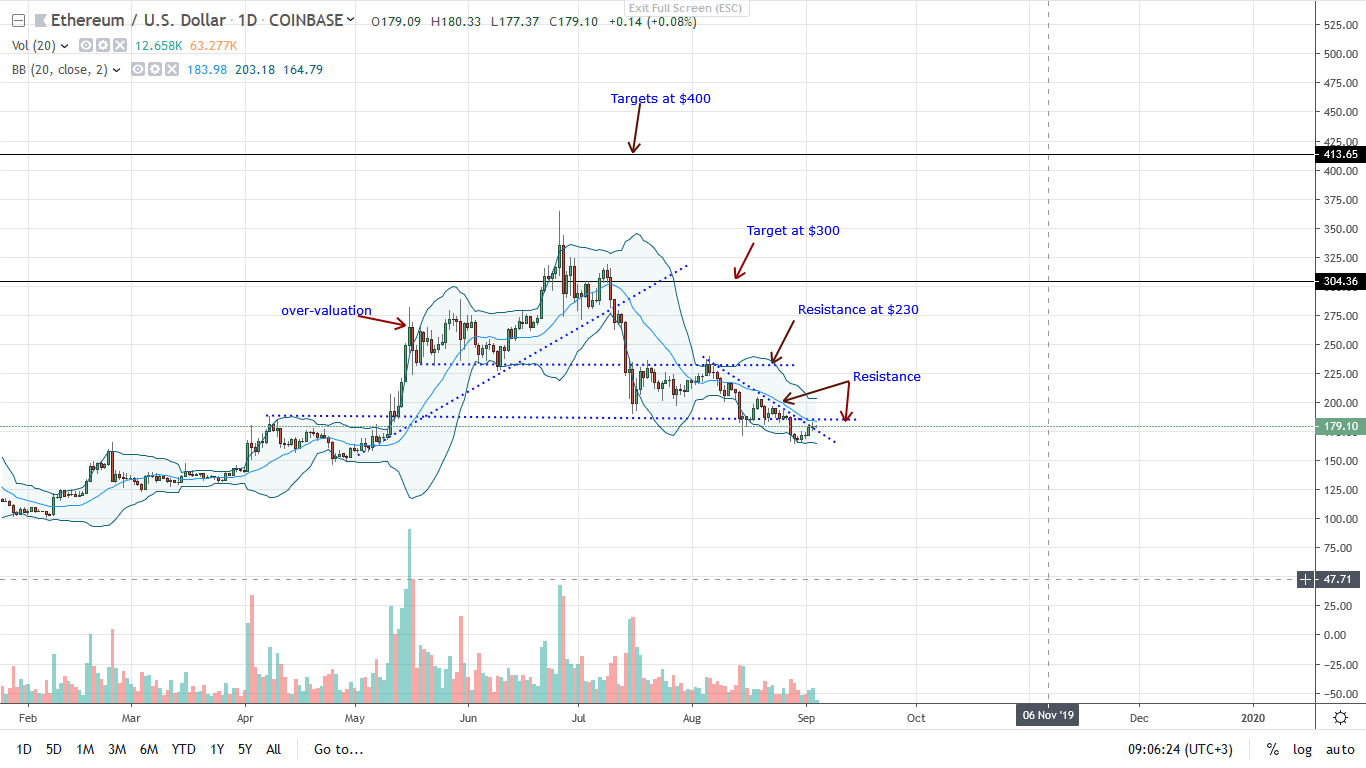 At the time of press, ETH is down against the green back and BTC, losing 3.36% and 6.7% in the last week. Trading below $200, bears are in clearly in control. Albeit recent gains and the possibility of a prices bottoming up from the Jan-Feb highs, participation is low and that could be a problem for bulls in the immediate term.
Note that though bears are yet to reverse gains of Q2 2019, buyers have a chance and could reverse from this support level if and only if there are sharp gains, lifting prices above $200 and the main resistance trend line of Aug 2019.
Behind that upswing must be decent volumes preferably exceeding those of Aug 28-$112k, or even Aug 14-$179k, as ETH rally in a buy trend continuation phase. On the flip side, if there are steep losses that confirms losses of Aug 28, then odds are-and as reiterated in previous trade ETH/USD analysis, ETH could crumble to $130 and even $80, the lows of Dec 2018.
Chart courtesy of Trading View—Coinbase
Disclaimer: Views and opinions expressed are those of the author and is not investment advice. Trading of any form involves risk. Do your research.