Latest Ethereum [ETH] News
The boos maybe? It could if the recent Ethereum on-chain events is anything to go by. While the Ethereum Foundation-together with supportive partners, revealed that they have completed the distribution of over $2 million in the past two months to bolster the development of Ethereum's Serenity whose Phase Zero test-net is set for a tentative time in January 2020, there are notable concerns over the state of the network.
Conjuring memories of Cryptokitties which jammed the network in late 2017, it has been observed that the capacity of ETH has surged to over 90% mainly due to Tether's involvement. Tether Limited, the company that issues the dominant stable coin has been churning the coin over the Ethereum network in the past few months. The end result is a strained network, and the very likelihood of high transaction fees that will keep away enterprise grade investors.
Observers are worried from the mere fact that Tether, despite their critical use in the crypto scene, releasing coins over the second most valuable network would have a negative impact that is 17.5x higher than that of Cryptokitties.
Sparked, critics are now attacking Ethereum. Visible is Samson Mow who is reiterating that the platform is "technologically dead, centralized and a cool science project with no real-world use". Taking to Twitter, the Bitcoin educator said:
"Ethereum is a technological dead end. The more it's used, the faster it dies. Fortunately, USDT is also available on the Liquid Network which is more scalable and later will allow Lightning Networks to be created for assets like Tether."
ETH/USD Price Analysis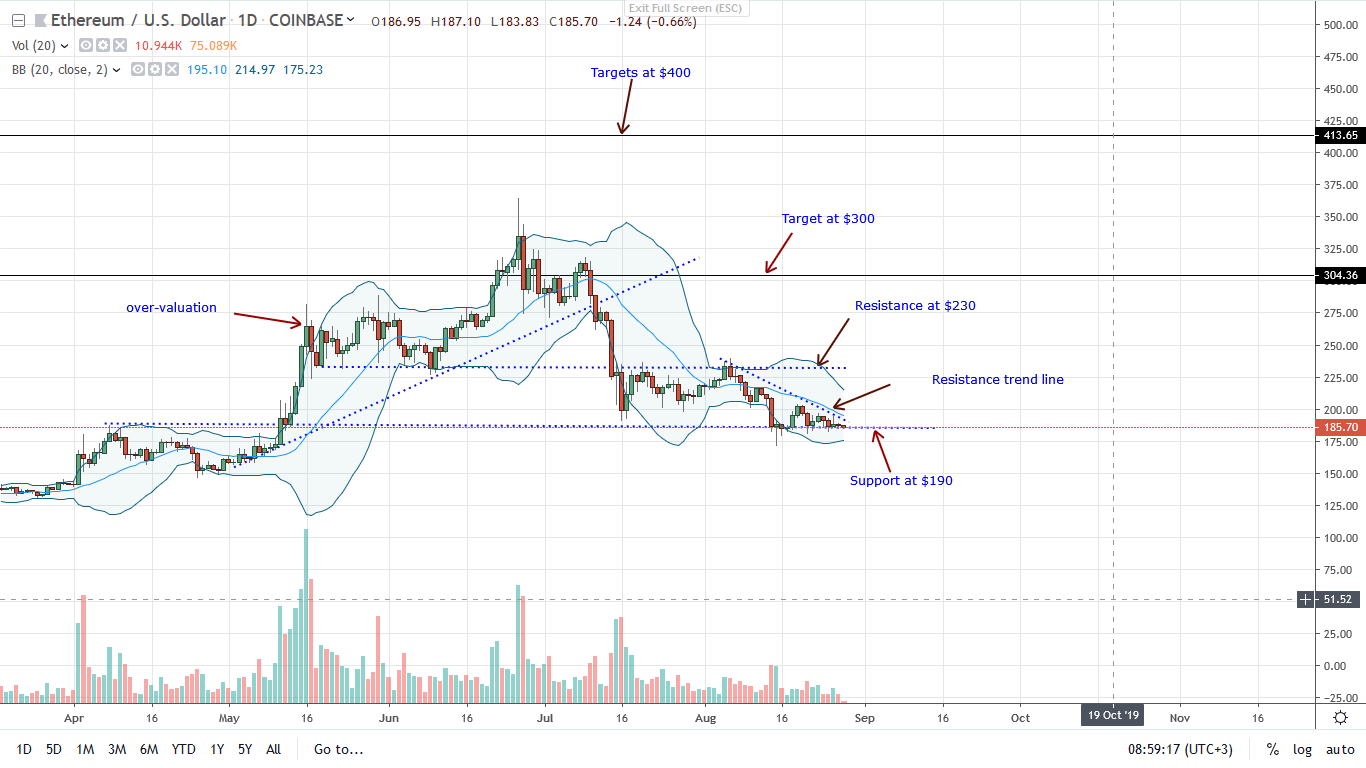 In spite of these deflating criticism, ETH is consolidating and stable in the last day and week. Technically, ETH bears are in control, and the second most valuable coin is trading within a bear breakout pattern following the close below the main support trend line in early July.
As such-and following through on previous ETH/USD price projections, the best course of action as long as prices are trending below the main resistance level at $230 is for risk-off traders to unload the coin on any pullback retesting this level.
Presently, bears are retesting the main support line at $180-$190 which coincidentally is previous resistance now support marking April high. Should prices sink below this mark, odds are ETH will tumble towards $150 and later $100.
On the flip side, any form of recovery that drives prices above the minor resistance trend line towards $230 at the back of high trading volumes exceeding $175k of Aug 15 could see ETH rally to $300 in a buy trend continuation. Such will correct the undervaluation of Aug 15 high volume long lower wick bull bar that closed below the lower Bollinger Band (BB).
Disclaimer: Views and opinions expressed are those of the author and is not investment advice. Trading of any form involves risk. Do your due diligence.