The Bitcoin price could be trending back below $12,000 after a strong march that lifted prices from the pits of mid-March 2020 to heights of $12,473 in mid-August.
The Bitcoin Scene is now Deeper
As it is, the Bitcoin price is up roughly four folds after sinking to lows of $3,800, stagnating at around $7,000 to $8,000 right after halving and is now back to $11,500 to $12,000 zone. Everything, as analysts projected, is falling in place.
Bitcoin prices don't usually rally immediately it halves. Although the amount of coin accessible to miners is halved–hence technically halving the sell pressure as miners need to cover their bases in a resource-intensive mining process, past price action pattern suggests an 18-month delay before prices erupt.
However, the scene has changed and there are far more participants with deeper markets and more pressing regulations. And this is not to mention the growing derivatives market which enable traders to fade the trend with leverage.
Bitcoin Options and Outflow from Exchanges
Regardless of what's happening on the table, on-chain metrics point to bulls. Frist, trackers point to a record outflow of Bitcoin from custodial exchanges.
Given their support for fiat, most are points of conversion and when holders flock to exchanges to liquidate, the inevitable pressure pushes the market down to the detriment of miners who are then forced to sell fearing worse prices.
As per statistics, Bitcoin held by exchanges is at a 20-month low.
Second, the network hash rate remains elevated while traders are optimistic of even better prices judging from the number of Bitcoin Options open interest.
Bitcoin Price Analysis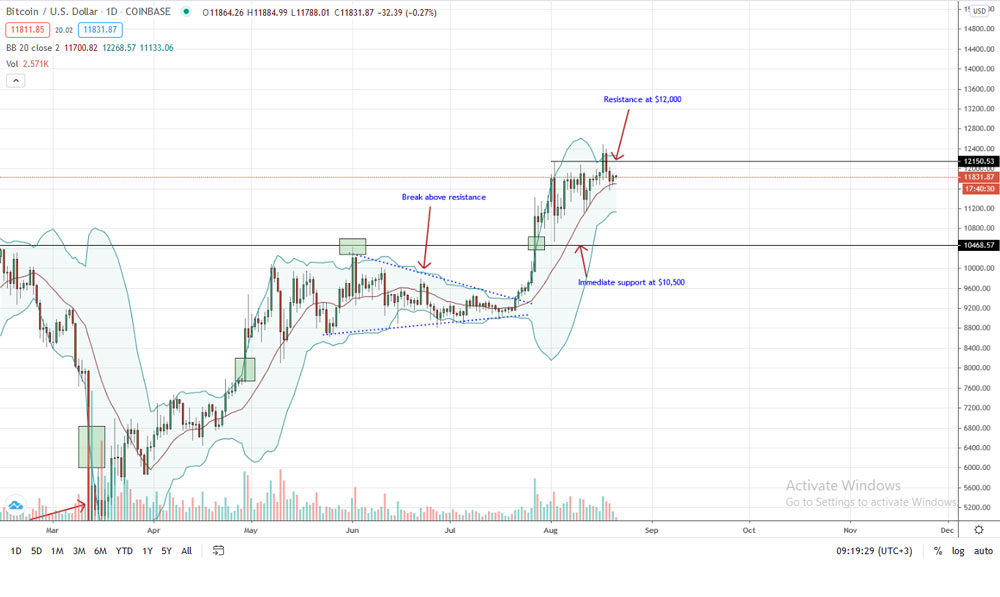 The Bitcoin price is currently changing hands at $11,828, adding against the USD but struggling to outpace the rampant ETH.
Notably, from the daily chart, candlestick arrangement suggest bulls. As it is, BTC prices are consolidating in lower timeframes as it finds support in the middle BB. This is a flexible line of support, representing a vital line which can determine the short to medium term trajectory of Bitcoin price should bulls find support or bears drive prices lower. A break below this level at the back of high trading volumes preferably exceeding those of July 27—data from Coinbase, could see BTC fall towards $11,000 or worse $10,500.
On the reverse side, a strong bounce from the middle BB with equally high participation could see BTC prices rallying back above $12,000. This may build the foundation for a welcome launch towards June 2019 highs of $13,800 or better in the days to come.
Chart courtesy of Trading View
Disclaimer: Views and opinions expressed are those of the author. This is not investment advice. Do your research.
---
If you found this article interesting, here you can find more Bitcoin news