Algorand [ALGO] has been trading within the confines of a range of $1.6-$2.14 for the last three months. Hints of the bullish breakout were invalidated after the weekend meltdown. However, the recovery has been notable. In fact, ALGO has managed to rake in over 5% gains over the past week. To put things into perspective, Algorand's native token has outperformed several top cryptocurrencies that were still reeling under the sell-off.
ALGO's price rose by 11.33% in the last 24-hours and was currently trading at $1.82. With high social volume, will ALGO finally target critical levels rather than just forming local highs and dropping back?
Analyzing Algorand's [ALGO] trajectory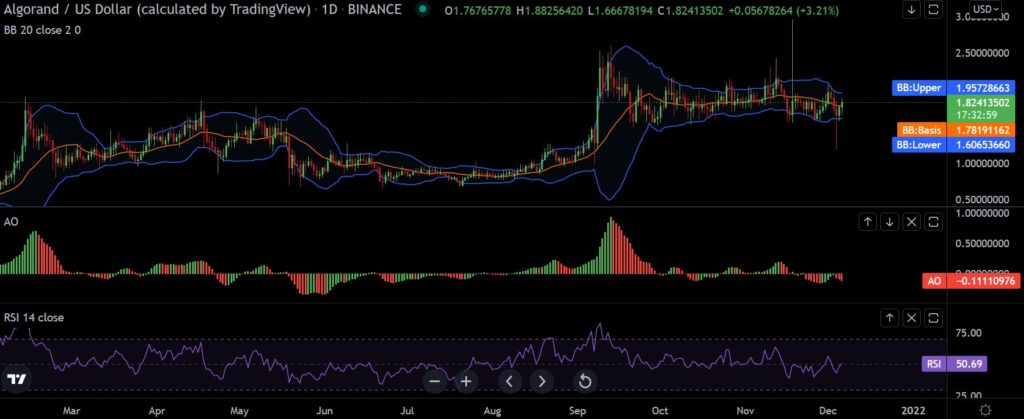 The volatility in the market has taken a hit as depicted by the converging Bollinger Bands [BB]. The closing lines of Awesome Oscillator [AO] have also flipped red signaling a switch to weak bearish momentum. The buyers are dominating the market but the struggle continues with the Relative Strength Index [RSI] standing a little over the half-line.
The 50 DMA [Pink] and the 100 DMA [Blue] have continued to provide a great deal of resistance to the asset. ALGO's price action may hurt in the near term as the two moving averages gear for a bearish crossover. The low volume was yet another hindrance to the asset's price action.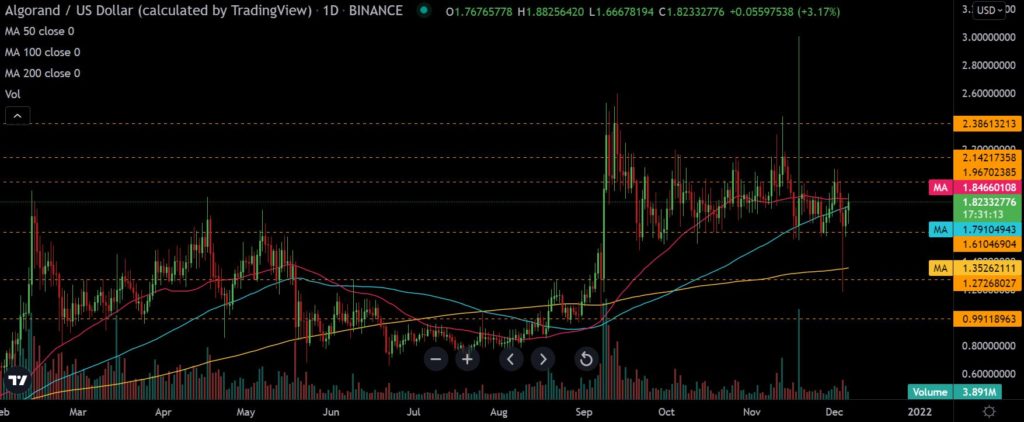 Is recovery on the cards?
ALGO had failed to score above the all-time high of $3.2 that it established back in 2019. This year's bull run too failed to catalyze the asset to move past the level. $3-mark has been a coveted but distant target. 
According to the above charts, a case of bullish reversal seems highly unlikely. With unimpressive volumes and sinking volatility, ALGO may see its latest uptrend cut short buy sellers' proliferation. In such a case, the crypto-asset may test its immediate support level of $1.6. If the bulls fail to hold this level, a depreciation could trigger a retracement to a $1.2 support zone. Its resistances, on the other hand, were found to be at $1.96, $2.14, and $2.38 respectively.
Ecosystem Growth
Algorand's main objective is to eliminate the technical barriers that have hindered mainstream blockchain adoption: decentralization, scale, and security. The significant uprising in ALGO's price comes in the heels of growth in Algorand's ecosystem. The foundation's launch of the Algorand Virtual Machine helped Algorand to position itself as a frontrunner for the race of layer-1 platforms.
The institutional interest also has been consistent. The launch of launched a $300 million DeFi fund was yet another crucial development.