Polygon (MATIC) is recovering from the recent price dumps, and there are many opportunities for it to hit a new ATH soon. The token has been pumping in recent days amid the market crash situation approaching its last ATH of $2.69. The stats of the network show reaching and exceeding the ATH isn't far. Santiment published a detailed report about the situation.
One of the most important metrics showing potential in the Polygon network is the active addresses. On-chain data shows that almost 10K addresses are interacting with MATIC daily. The chart trend from September to December shows an uptrend in this network. But it had a correction in October, which was shallow compared to the last corrections.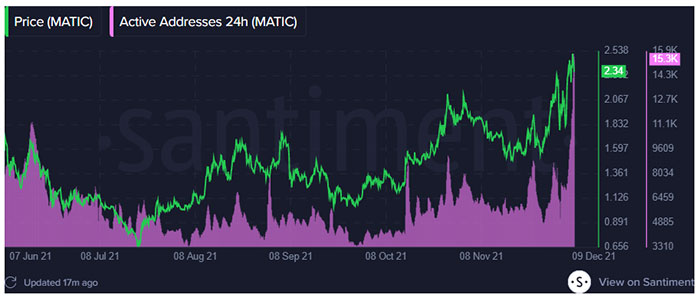 Network profit loss is another crucial factor when analyzing blockchains like Polygon. The data shows profit/loss chart is in a good situation, and MATIC rebounded from the last correction very quickly. In simple terms, the price is still acceptable by users. The price didn't have big dumps that resulted in users selling at a loss.
One of the metrics that may worry holders is the exchange inflow. The chart shows that inflow is pocking up, and more MATIC is being sent to exchange accounts. It may start to move into the domain of high sell pressure. But the situation is still perfect if we look at the chart on a yearly scale.
Although the exchange inflow is rising, the daily active deposit is in a great situation. This metric is rising and in a clear situation too. But the combination of these two metrics shows a possible short-term top.
Next to all of the above analysis, one metric is very strong for Polygon. The network is expanding, and more users are joining it because of many reasons. About 3.7K of new addresses interact with MATIC that is more than many other blockchains. It can be the result of new projects integrating the network and also blockchain games launched on Polygon.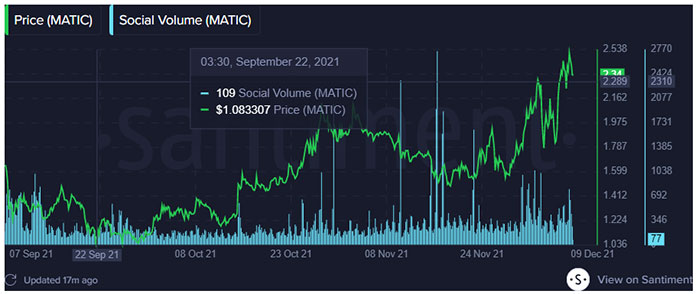 Social volume isn't that much great for MATIC. Maybe the users are waiting for ATH to talk more about the token. The report says:
"According to Santiment social data, there is some room to grow because not a lot of people paying attention to MATIC currently. Perhaps we're not going to see a wave of new interest in MATIC until we break ATH. For now, at least from a social perspective, there is still room to grow."
Summarizing all the metrics and factors, we can say the on-chain activity is strong for Polygon. But some metrics are approaching concerning levels. After all, the social data is bullish and may result in more rises for MATIC.