After the November lull, things look good for Polygon's native token, MATIC. While top cryptocurrencies looked for a decisive direction, MATIC went on to score a six-month high record as it rose by 34.94% over the past week. What's driving the growth?
Earlier this year, MATIC underwent a parabolic rally. It may sooon mimic a similar movement once again. The 15th-largest crypto-asset successfully broke the long-standing resistance level on 3rd December.
At the time of writing, the crypto-asset was exchanging hands at $2.28 after registering daily gains of 9.05%. However, the latest price action coincides with a major development.
The prominent Ethereum layer 2 solution had recently introduced new open-source javascript library, dubbed matic.js, that is aimed in offering APIs for deposits, withdrawals, and other types of transfers on the network.
The rapid addition of new protocols in the Polygon network is yet another major factor that's driving not just MATIC's price but also its on-chain activity.
MATIC hits 6-month high; What's next?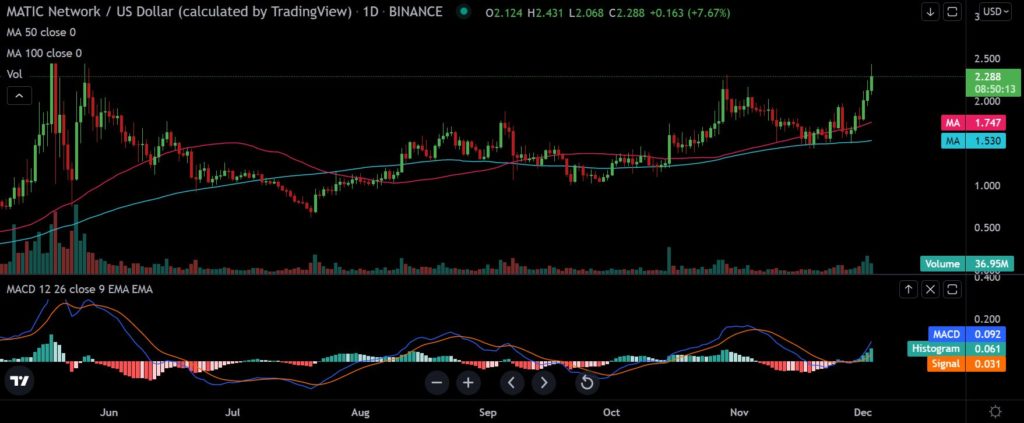 Afte days of retracement, the overall technicals look optimistic as the green candles made a swift recovery this week. So far, the rising volume is cushioning the uptrend. The MACD also aligned with bulls while the daily moving averages 50 [Pink] and 100 [Blue] supported the price candles from a market downtrend.
The closing green bars of Awesome Oscillator [AO] also exhibited growing bullish momentum in the coin market. The volatility, as depicted by the diverging Bollinger Bands [BB], has also amplified following the latest price action which has pushed the Relative Strength Index [RSI] towards the overbought zone. MATIC buyers are dominating the scene.
The above charts clearly depict that odds are in favor of the token.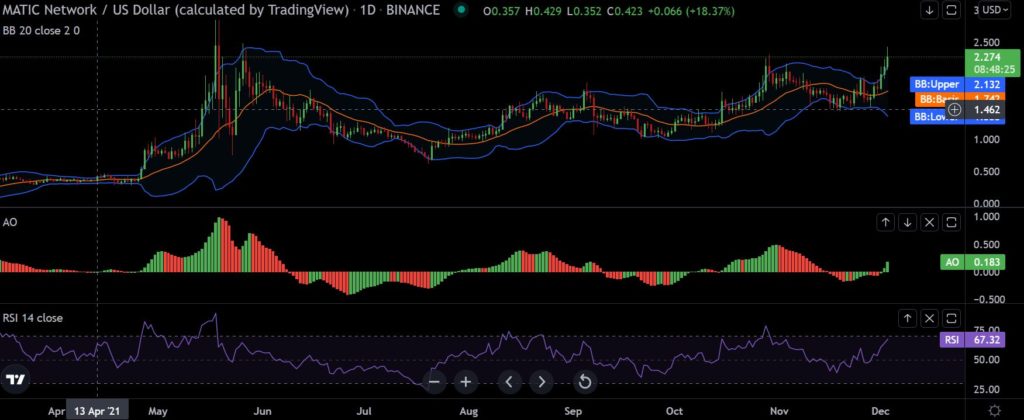 How long till the ATH breach?
The crypto-analytic platform, IntotheBlock's IOMAP chart, well over 99% of all addresses holding MATIC are in profits. Meaning there are no substantial supply barriers ahead which could boost the token in breaching its previously established peak.
ITB also noted,
"Increasing institutional support, the rapid expansion of the ecosystem, and the focus on ZK scaling solutions are just some of the reasons why Polygon token MATIC is soaring. And on-chain data backs these fundamentals, as our actionable signals are showing a bullish momentum."
According to crypto analyst Ali Martinez, as long as MATIC manages to hold its fort above the crucial $1.82-$1.89 zone, "there is a good chance price will advance higher."
$MATIC looks epic! 🚀@intotheblock's IOMAP shows that 99.22% of all addresses holding #MATIC are in profits, so there are no significant supply barriers ahead.

As long as #Polygon holds above $1.82-$1.89, there is a good chance prices will advance higher… Way higher. pic.twitter.com/YQ5dvosfCR

— Ali (@ali_charts) December 2, 2021