As the market took a tumble, "buy the dip" sentiment echoed. Chainlink [LINK] remained pretty much unfazed as it continued to project bullish tendencies along with the rest of the altcoin troupe.
Chainlink [LINK] hit a five-month high. The conviction among long-term holders is strong, as revealed by the crypto intelligence firm IntoTheBlock.
Go Marines!$LINK hits a 2-month high, with strong conviction amongst the long-term holders.

The number of hodlers — addresses that have been holding for over one year — has increased by 265% in just 12 months.

158,900 addresses are holding a total of 691.81m LINK🚀 pic.twitter.com/PO5sOVjwxb

— IntoTheBlock (@intotheblock) November 10, 2021
According to its latest findings, the number of hodlers or addresses that have been holding the token for over one year has surged by 265% in just 12 months. To put things into perspective, 158,900 addresses are currently holding a total of 691.81 million LINK tokens.
Is Chainlink [LINK] ready to enter territory above $50?
Over the ptas week, Chainlink [LINK] was up by 16.63% and was now trading hands at $35.59. The asset has been on an uptrend since the last week of October. It breached a crucial level of resistance $34.8.

The diverging Bollinger Bands [BB] noted a much-needed uptick in terms of volatility in the LINK market. The increasing trading volume was also a positive sign. Furthermore, the dotted markers of Parabolic SAR that settled below the LINK price candles also pointed depicted a bullish picture.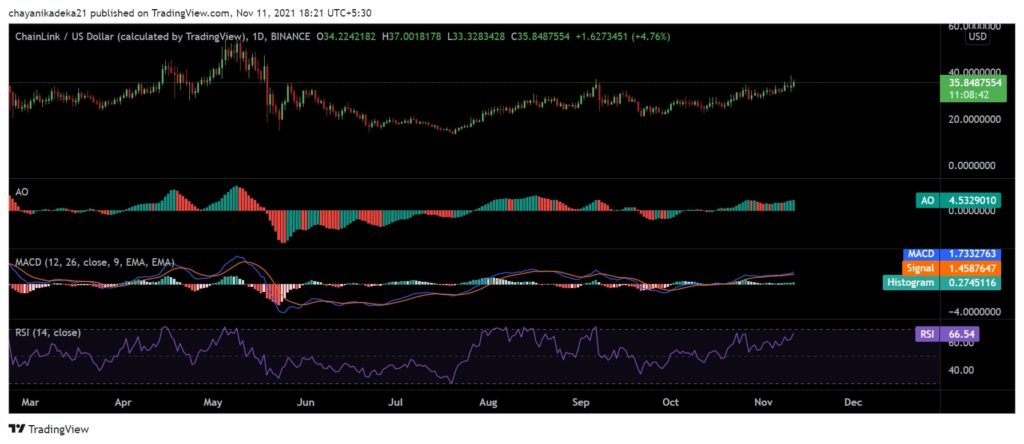 The Awesome Oscillator [AO] depitcs an increasing bullish momentum. The MACD also echoed a similar sentiment, while the daily Relative Strength Index [RSI] climbed towards the overbought territory. The above mentioned steadily increasing number of LINK addresses further validated a superior buying strength in the coin market.
Besides, LINK has surpassed a major hurdle this week. With the ongoing bullish market trend, an ascent of more than 27% in the near-term may not be surprising. This would bring back the $42.44 resistance level at play. If the asset continues to maintain an uptrend, a breach of the psychological $50 may also transpire this month.
Chainlink's total value secured smashes past $75 billion
2020 was a year of record growth for the #Chainlink Network. Here's an overview of key metrics, like our adoption in #DeFi, implemented research, & blockchain integrations. Thank you to our great community and the amazing smart contract developers we are lucky to work with. OK;LG pic.twitter.com/4E543ALVX6

— Chainlink (@chainlink) December 31, 2020
The oracle network's exponential growth can be attributed to the emergence of decentralized finance [DeFi].
As a result, smart contract value went on to secure growth by a factor of ten since last year, as it officially surpassed a whopping $75 billion.
Over the past couple of months, Chainlink has seen rapid integrations across many prominent blockchains, such as Ethereum [ETH], Binance Smart Chain [BSC], as well as Avalanche [AVAX].
In fact, since its mainnet debut in 2019, Chainlink has launched more than 700 oracle networks. At the same time, it has managed to secure well over 600 million data points across 10 blockchain networks.
By the end of July, the oracle network has raked in at least 1.4 new partners each day this year on an average.