One of the most unique needs when it comes to our cryptocurrencies is the secure storage of them. This implies considering physical storage devices, as well as other possibilities. But if you have the opportunity to have a mobile device, smart, that allows you to have a secure wallet, and be much more than a smartphone, that will be the HTC Exodus.
A few months ago we were talking about how HTC would be preparing a new Smartphone with blockchain, wallet and other features. Well, it is a reality.
HTC stated that the phone would be available in 34 countries, and the first units of the new Smartphone would begin to be delivered in the coming weeks. Although this expected innovation has its weaknesses in the environment, as for example that the pre-sale is only done with cryptocurrency.
From the technological point of view the HTC Exodus has had a quite positive critique since May of this year was announced its appearance among the plans of its manufacturer.
The launch of the production of this Smartphone with blockchain capabilities involved an arduous work of research, advice and implementation of improvements at every step, as it was known by executives of HTC.
As for the cryptocurrency storage capabilities of this new device there are certainly many opinions, such as for example that people with large stocks in cryptocurrencies will continue to use cold storage devices, or they will opt for the Finney phone from Sirin Labs. But it will be the use practical of Exodus what will dictate the pattern among its users.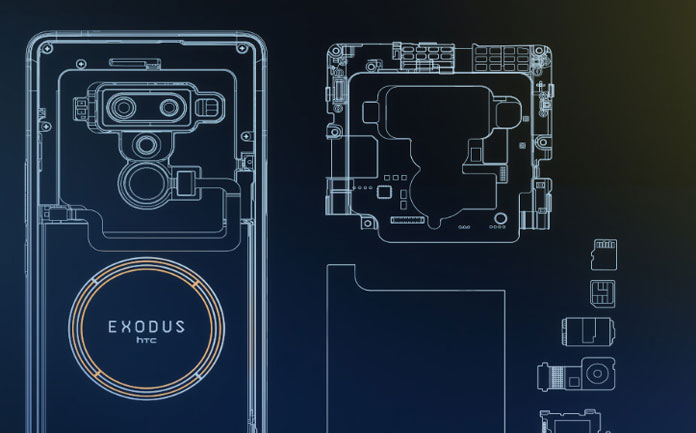 Technical specifications of Exodus One
As for the technical specifications of Exodus, the phone has a Snapdragon 845 processor, 6In Quad HD + screen, dual cameras, 6GB of RAM with 128GB of storage and IP68 classification.
The phone runs the Android Oreo operating system. It is undoubtedly a quite powerful device for its average in the competition.
It is natural that in spite of such technical specifications there is still some misgivings about Exodus' encryption capabilities, compared to specialized cryptocurrency storage devices already established in the market. But all this is purely speculative and even more so when you do not even have practical knowledge about the functionality and performance of Exodus.
HTC's challenge with this new launch is interesting because on the one hand it tries to separate itself from its traditional competitors such as Samsung and Apple, and on the other it ventures into a market segment whose competition is cold storage devices.
Being one of the biggest and most successful brands in terms of phone production, this new HTC device will undoubtedly give a lot to talk about in the coming months.