Coinbase announced the launch of Coinbase NFT in beta, which will bring many functionalities for the fans of this sector to the famous exchange.
Coinbase NFT, a Web3 social marketplace for NFTs, was unveiled last year. Since then, the exchange has been working openly and soliciting feedback from the NFT community. 
Beta Testers Are Starting
By launching the beta version, Coinbase takes the first step on the path of expanding into the NFT sector. Starting today, anyone can visit nft.coinbase.com to check out the first version of Coinbase NFT and browse the large library of NFTs on the Ethereum blockchain.
Beta testers will be able to create a Coinbase NFT profile and use any self-custody wallet to purchase and sell NFTs, whether it's Coinbase Wallet or something else. There will be no Coinbase transaction fees for a limited time.
Coinbase starts with a limited group of beta testers who will be chosen depending on their position on a waitlist. Selection will start at the top of the queue and gradually expand access to include more people. Later, the marketplace gradually opens up access to creating profiles, buying, and selling on Coinbase NFT to everyone.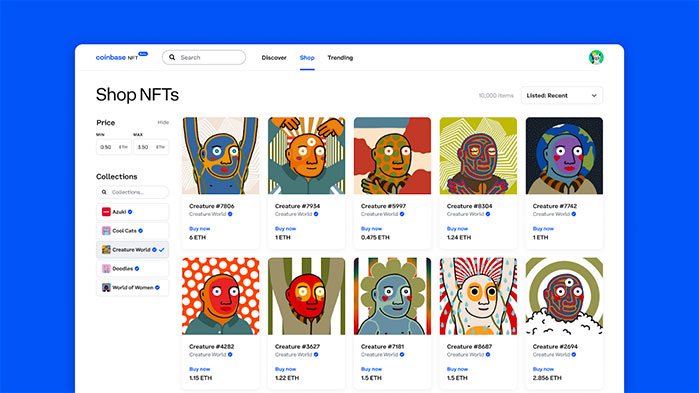 Coinbase NFT beta users can easily create profiles, connect with others to create communities, and discover new NFTs. These features will be available for others as well.
Coinbase NFT will progressively add more features in the future to bring the vision of a web3 social marketplace to reality. Drops, minting, token-gated communities, and the ability to buy NFTs using a Coinbase account or a credit card are all in the works. 
Coinbase says in the announcement:
"We're just getting started and can't wait to explore new ways to bring people together around NFTs and the creators behind them. We'll continue to listen, learn, and build based on feedback. To stay updated and tell us what you think, and follow us on Twitter."
Famous projects from known creators like Doodles, Boss Beauties, and Azuki are currently available in Coinbase NFT. It shows the serious plans of the famous exchange to tap into the NFT sector. We can expect more and more users to start enjoying the marketplace because of the vast user base of Coinbase.
We can expect more and more features from Coinbase in its NFT marketplace that can gradually increase its market share. It can add the feature of minting and buying NFTs in other blockchains. Besides, the ability to buy NFT with fiat money can be very interesting for many users.