A new service enabling users to seamlessly send and convert stablecoins into fiat will all be offered by MoneyGram with the help of the Stellar Development Foundation.
Upon launch, users with wallets on the Stellar network will be able to convert their cryptos into Circle's USD Coin (USDC) once it goes live. They can then withdraw the stablecoin via the MoneyGram network, which is a payment network.
More Adoption Coming
A recent interview between Alex Holmes, the CEO of MoneyGram, and a news outlet revealed the new development. In the interview, Holmes discussed the current incompatibility between cryptocurrency and fiat. We are looking to introduce a solution that bridges the gap between the two worlds as a way to help address this issue.
It is for this reason that he believes it is vital that we embrace the sector and help it become mainstream. As a result of its partnership with the Stellar Development Foundation, MoneyGram is positioned well to support the adoption of cryptocurrency.
In light of this month's collapse of the TerraUSD stablecoin, these types of digital assets are facing an unfavorable light. This has caused instability in the markets. The Terra meltdown has raised concerns that these stablecoins may lose their peg as well, even though Terra is different from USDC, which is backed by dollar-equivalent assets held in reserve. A stablecoin with the highest market capitalization, USDT, which was issued by Tether Holdings Ltd. on May 12, briefly lost its peg to the dollar.
Moneygram could potentially be able to benefit from this partnership by pushing adoption even further in emerging markets where it operates. It is estimated that remittances will reach $630 billion in low and middle-income countries by 2022, according to the World Bank. MoneyGram's rapid growth creates an enormous opportunity for the company to expand its services in a meaningful way.
According to Bloomberg, Stellar CEO Denelle Dixon said:
"There are billions of cash-dependent people globally who could benefit from the utility that digital assets and blockchain provide. The answer is what we're building through this partnership — a service for helping them go from cash to digital assets."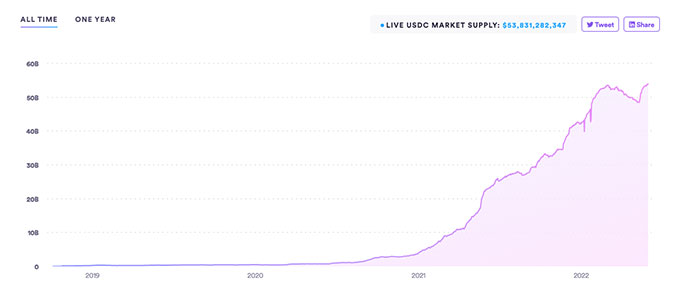 It has become increasingly common for traditional remittance companies to use crypto- and blockchain-based technologies to improve the quality of their services.
A consortium of private equity investors, including Advent International and the nonprofit Stellar Development Foundation, which manages the Stellar blockchain, expressed interest in a possible takeover bid for MoneyGram in July. A crypto-remittance service was then developed by the company with Stellar in October, and a pilot program was released in November, allowing brokers and receivers to access the payment system.