The growth of the understanding of cryptocurrencies is having its own rhythm. Sometimes technology advances at speeds much higher than the capacity of understanding of most people. Aware of this, and with the aim of making cryptocurrencies a daily payment instrument, the people of Unifox have developed their platform for payment facilitation, and we will talk about it here.
Unifox is developing its own ecosystem with the conviction that its products will help cryptocurrencies to be used for all kinds of day-to-day transactions. And that vision is not utopian at all; Unifox plans to make cryptocurrency ATMs, exchange offices and POS terminals available to users, so that users can complete their daily transactions in cryptocurrencies.
The ideal instrument through which Unifox plans to make all this possible is the cryptocurrency of its ecosystem: Unicash. This cryptocurrency was designed for frequent use, with low transaction fees.
Unicash can be used to transfer funds in said cryptocurrency to other users in any part of the world, being able to change them instantly in fiduciary currency through an online exchange or through an ATM. This undoubtedly makes things a lot easier in terms of everyday use of the cryptocurrency.
Certainly in the vision of Unifox, with facilitating more liquidity to users, the platform helps enormously in the use of virtual currency as a viable option to transfer money.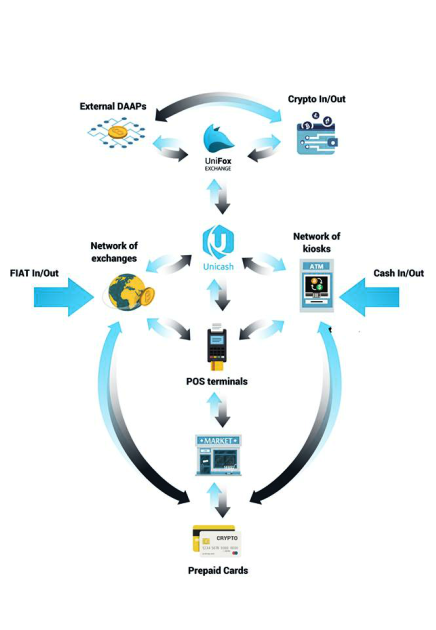 But Unicash brings more advantages. For example at the time of invoicing, the buyer can scan a QR code on the generated purchase receipt. The amount would be transferred from his Unifox account to the seller instantaneously, allowing the latter the option of receiving the payment in cryptocurrency or in fiduciary money. This possibility in practice comes hand in hand with the point of sale terminals that will be in the stores of the merchants. In fact, Unifox plans to have more than 50,000 POS machines in operation within the next two years, projecting growth, which may be even greater.
This ease of use of the cryptocurrency can provide stability to their prices, avoiding the harmful volatility that characterizes almost all the average cryptocurrencies in the market. The advantage of facilitating liquidity is one of the main characteristics of Unicash.
All Unifox products will be housed in their own blockchain. The network will also use the Fox token as its native utility token to pay the usage fees of the platform. This token will offer dividends each month to its owners. All income generated by the operations will be distributed to the platform community.
Unifox will launch its main ICO in September 2018, and expects to raise close to $ 100 million, already counting on the majority of its projects to be launched already developed and ready.
For more technical details of the platform, as well as its ICO, we suggest reviewing the  White Paper of the project.