Web3 platform Crypto Oasis revealed the dominance of UAE in the Web3 economy as it identified more than 1,450 active Web3 organizations with nearly 7,000 individuals.
The United Arab Emirates (UAE) is emerging as a global hub for cryptocurrency and Web3 adoption. Crypto giants including Binance, Crypto.com, Kraken, OKX have already set up shops in the country. Recently, UAE's Ministry of Economy launched a digital address for the Ministry's headquarters in the metaverse. The virtual headquarter will allow avatars to hold meetings, network, conferences and even allow signing of legally binding agreements.
What does the Report State?
Our Crypto Oasis Ecosystem Report 2022 UAE is LIVE! 🚀
This report has been a long time in the making and we're delighted to share it with you, as the result of dedicated work by our Crypto Oasis team in partnership with @RolandBerger.

Download here: https://t.co/5b9wtrBK4A pic.twitter.com/cQTt6Kxswc

— Crypto Oasis (@CryptoOasisUAE) October 10, 2022
As per a research report by MENA focused blockchain ecosystem, Crypto Oasis, UAE is growing at an exponential rate to become one of the major crypto power houses in the world. The report focuses on market development and emerging technologies such
as Blockchain, Crypto, Metaverse and Web3.
It highlights the various industry efforts and contributions from key players aiming to develop the local Blockchain space and foster a vibrant and innovative space to explore Web3 technologies.
The report segregated Web3-based projects into two categories, for one – native blockchain projects and secondly – non-native ones. The native blockchain projects are those which are solely based on the native decentralized technology and currently, there are 950 organizations around 65% working towards it while 35% or 500 organizations fall under the non-native category.
Crypto Oasis has also emphasized that the Dubai Multi Commodities Centre (DMCC) has registered more than 460 native organizations in Dubai.
Why Crypto Adoption is Growing Dramatically in the UAE?
Amrit Dhami, analyst at GlobalData, a leading data and analytics company, said that the UAE's regulation is more about overseeing the development of the crypto sector than curbing it. By accepting the inevitability of mainstream cryptoassets and helping the domestic crypto sector grow, the UAE will continue to attract a flock of crypto firms.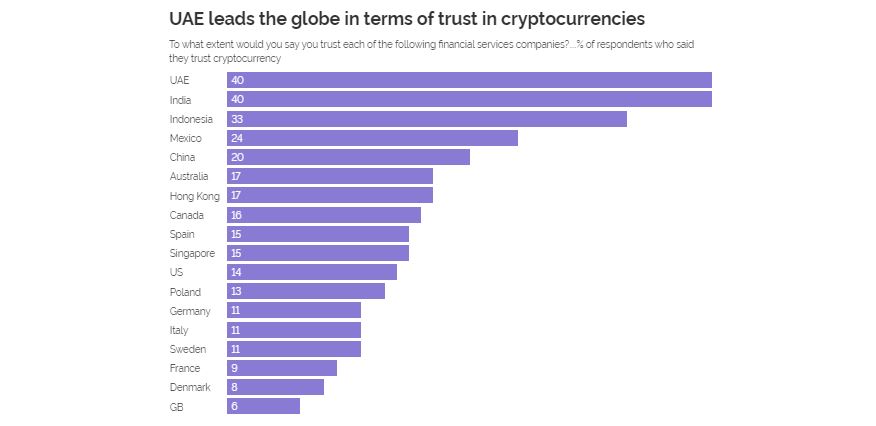 Local businesses like grocery delivery service, YallaMarket and property firms including DAMAC Properties and Emaar have already started accepting payments in cryptocurrency. A global YouGov survey found that trust in cryptocurrencies was highest among adults in the UAE. Emma McInnes, Global Sector Head of Financial Services at YouGov, specified,
"Building trust among consumers is pivotal for this emerging asset class to accelerate adoption. Countries like the UAE have already created governing bodies to measure and promote the growth of virtual assets, and by doing so, it's keeping itself ahead of most of the world in terms of developing the crypto market."