Bitcoin Lightning Network has been one of the most talked-about and hyped improvements that the network has ever seen. As the crypto-asset breached past levels to score a fresh ATH, the total value locked [USD] in Lightning Network also spiked to an astonishing record level of $49.56 million.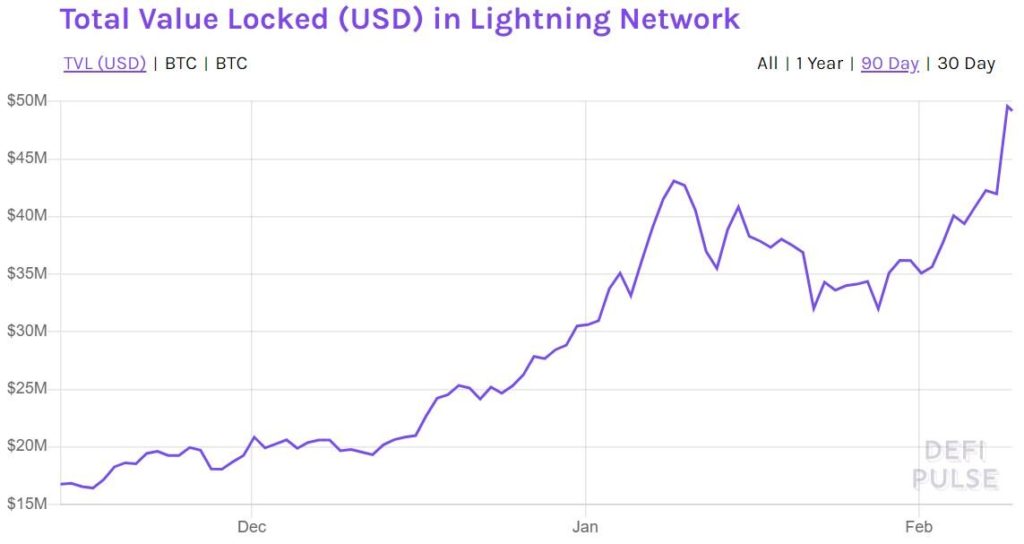 According to the above chart compiled by DeFi Pulse TVL [USD] in Lightning network has been steady throughout. After months of a consistent uptrend, the figure reached its first milestone on the 9th of Jan this year, with over $43 million, riding the bullish wave of Bitcoin which itself surpassed multiple target levels along the way.
However, Bitcoin's subsequent pullback later that month closing on a low of $30K was damaging to the entire crypto market. It was during this time, that Lightning network figures dropped close to $30 million. As Bitcoin gained tremendous upward push, TVL in LN also recovered surging a little shy of $50 million.
A Little History:
First proposed by Joseph Poon and Thaddeus Dryja back in 2015, the Lightning network was introduced to address some of the network woes by creating a second layer on Bitcoin's main blockchain. This protocol has been often touted as a solution to Bitcoin's scalability problems.
Despite a rise in total value locked in terms of US Dollar, Bitcoin locked in Lightning network has been pretty slow. Following the latest bull run, the figures for the latter surged to a 4-month high of 1,045 BTC. This was lower than the figures for year another sidechain technology, Liquid which is a federated, permissioned blockchain pegged to Bitcoin.

According to the latest stats, with 2,759.5 L-BTC, Liquid has outpaced public Lightning Network channels in terms of Bitcoin holdings. While it is still true that the total amount of Bitcoin tokens held on the Lightning Network is much more than what is available with public data, it cannot be denied that its adoption has been quite slow.
Note: Private channels are not broadcast to the Lightning Network and hence the actual figures are only known and used by the two involved nodes. This is not the case with Public channels which can be easily tracked since their activity is known by the network.
The Adoption Curve
On a much more positive note, LN has seen a much more adoption case. For instance, the cryptocurrency OKEx is all set to integrate the layer 2 bitcoin payments technology, in the second quarter of this year, in a bid to enable cheaper and faster transactions for users.
Furthermore, Vietnam's oldest Bitcoin exchange, VBTC, also reportedly added support for the Lightning network.
Additionally, the UK-headquartered CoinCorner also debuted Lightning Network support in the month of Jan this year.
---
If you found this article interesting, here you can find more Bitcoin news