Bitcoin [BTC] is yet again on a massive bullish streak as it blasted past $44k on the 8th of Feb as it rose by more than 13% in the last 24-hours.
The latest growth has been supported by technicals indicators which demonstrated that despite a probability of a short-term dip, Bitcoin's long-term outlook remained bullish.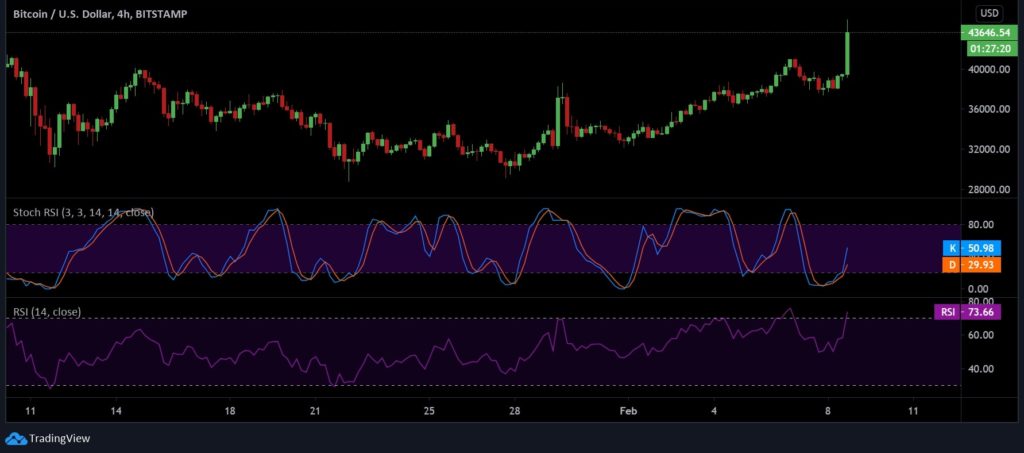 While the Stochastic RSI formed a bearish divergence with respect to the price action of the crypto-asset, the RSI has a different tale to tell.
Even as RSI climbed above to the overbought zone, there are, however, no immediate signs of a potential retreat, which can be a positive development for Bitcoin.
Besides, the cryptocurrency saw a renewed upward pressure as it breached the highly coveted resistance level of $40k just two days back. Crypto Economy had also reported about the same. However, the coin quickly faced rejection and dived all the way to $37K before the spike. So what exactly induced the price to exceed $44K for the first time?
The Musk Effect
. @michael_saylor @elonmusk

How it started vs How it's going pic.twitter.com/zpjC9iV6rO

— OKX (@okx) February 8, 2021
Elon Musk's tryst with cryptocurrencies, be it Dogecoin or Bitcoin, has been an interesting one. And what is more noteworthy is the fact the latest upsurge came just an hour after Musk's car firm Tesla revealed buying nearly $1.5 billion Bitcoin in January.
That does not end there. According to an official report filed with the U.S. Securities and Exchange Commission [SEC], the car-maker made the disclosure and also said that it would start accepting Bitcoin as a form of payment for its electric cars. Tesla stated,
"In January 2021, we updated our investment policy to provide us with more flexibility to further diversify and maximize returns on our cash that is not required to maintain adequate operating liquidity,"
Following the latest development, Michael Slayer, the CEO of MicroStrategy commented,
"Congratulations & thank you to Elon Musk & Tesla on adding Bitcoin to their balance sheet. The entire world will benefit from this leadership."
One of the world's most popular and ambitious company's plan to use Bitcoin as a payment mode opens up many channels for the entire cryptocurrency industry. The latest news could prompt the previously skeptical entities to explore and foray the burgeoning space.
Adoption could, in turn, facilitate new policy-making and rules that could bring in the much-needed clarity while eliminating the outdated laws.
While this was indeed a positive development for the whole ecosystem, Bitcoin's price movement did not sit well with cryptocurrency exchanges such as Binance which faced temporary difficulties in accessing the website.
---
If you found this article interesting, here you can find more Bitcoin news