The Tron network has gained tremendous traction. The blockchain added yet another feather in its cap after surging past a new peak in terms of daily transactions. As per the latest stats on Tronscan, the network reportedly handled a whopping 9.27 million transactions on a single day.
With this, the transaction count saw an impressive surge of more than 500% since last July. This was revaled by market data aggregator, CryptoRank platform whose tweet read,
"Tron Foundation TRX total daily transaction count crossed the 9M mark and set a new all-time high of 9.27 million. This rate grew by 522% over the past year."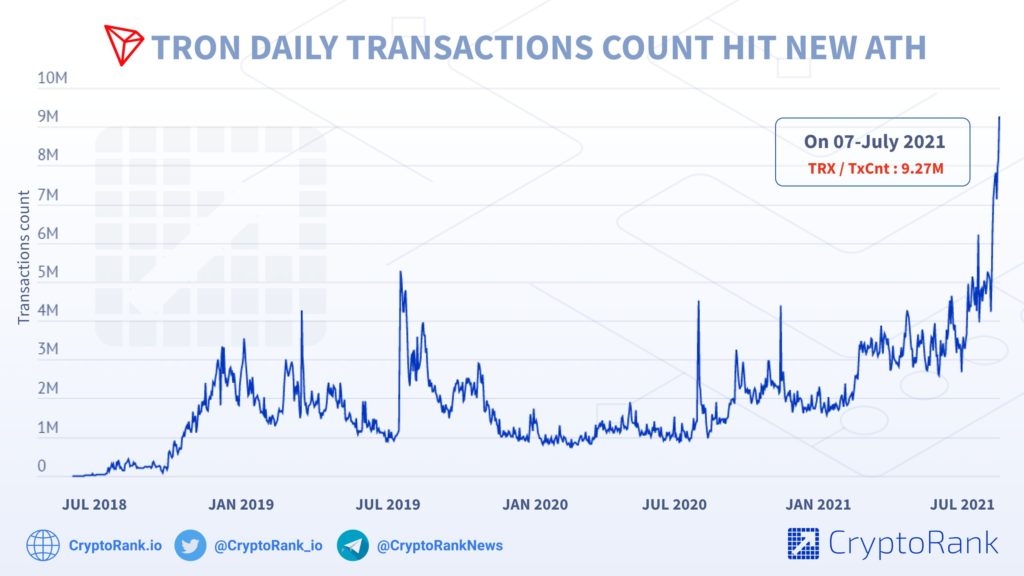 While the transaction count growth has been choppy, Tron has been moving on an upward trajectory since the beginning of the year. In the second quarter, the network had surpassed 6 million in transaction count which came on the heels of the Tron ecosystem celebrating its 3rd independence day on the 25th of June. The figures dropped back for a couple of weeks before finally hitting another ATH. 
In addition to that, daily active addresses chart on the Tron blockchain has been parabolic. As of 8th July, the numbers stood at 2.10 billion. 
Over the past couple of months, the network has seen immense activity owing to the broader market rally welcoming new players as well as the decentralized finance [DeFi] space rolling at a rapid pace. 
As a matter of fact, the circulating supply of USDC, the world's second-largest stablecoin's, on Tron surged past a $108 million in just a matter of two days after CENTRE, the consortium run by crypto exchange Coinbase and payments firm Circle, announced support for the blockchain. 
The appeal for the Justin Sun-led network has grown due to fast transaction speeds, low transaction fees, and scalability. Ethereum's rising gas fees and network congestion did not help its case despite being the most blockchain. To avoid this, players moved to other altenatives.
Tron [TRX] Nears 30th Spot; Loses Momentum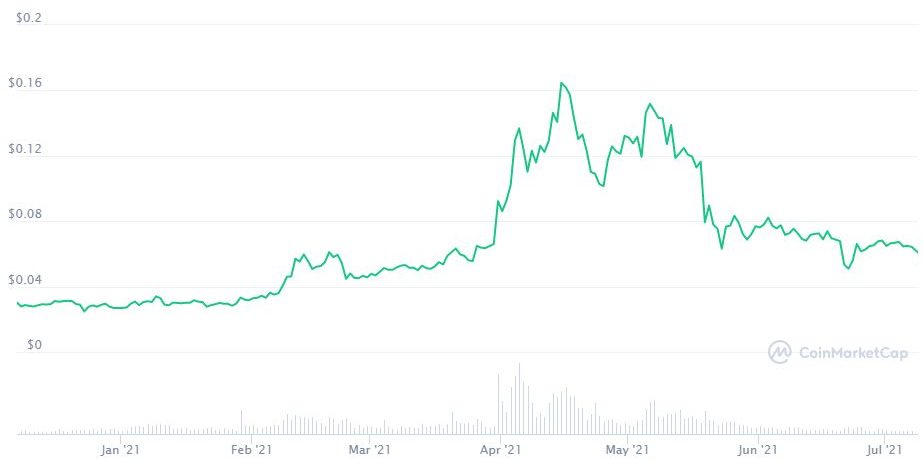 On the network side, Tron has experienced substantial growth and has emerged as one of the most popular blockchains today. But the same cannot be said about its native TRX token which once graced the top 10. But that was before the bull run. TRX slid to the 25th spot by market cap. The bullish retreat lasted for a few weeks when it made it to the top 20 asset but consecutive pullbacks damaged the momentum.
At the time of writing, TRX was valued at $0.0609 after a fresh downside correction in the market.
---
If you found this article interesting, here you can find more DeFi News