In a recent tweet, Tron Foundation links its followers to a blog post announcing the Completion of Phase One (2019.05–2019.08) of the $20 Million TRX Buy-Back Plan. On June 25, 2019, The Tron Foundation announced a $20 million buyback plan to better its community activity and market stability. Now the company is moving forward to initiate the second phase of the TRX buy-back plan very soon.
The blog post on the official medium of Tron Foundation reads:
"We have completed the first phase of 2019 as set out in the buy-back plan. With the rapid growth of the TRON ecosystem in this quarter, the successive release of projects including BTFS, BLive, BT Speed, and SUN Network, the launch of super DApp WINk on Binance, this phase of buy-back has far exceeded market expectations in both volume and capital scale. Currently, this phase has been concluded and we will announce the detailed information to all TRON community members."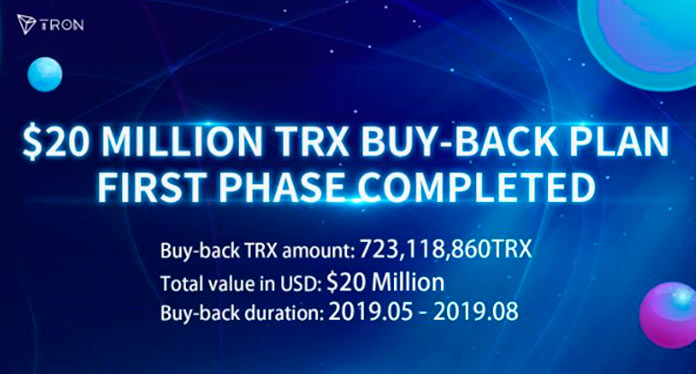 The medium article says that the phase duration remained from May to August 2019. The announcement of the second phase will be based on the development of the TRON ecosystem, according to a tweet by Tron Foundation. The total amount of money spent during the first was $20 million and the total amount that has been purchased is 723 Million of TRX.
This buy-back plan will last for a year and will be conducted in several batches with no less than $20 million. A blog post announcing $20 Million TRX Buy-back Plan and 2020 TRX Holding Plan by TRON Foundation, reads:
"The TRX holding of TRON Foundation will be unlocked on January 1, 2020. At this point, the TRON Foundation has no specific plans for this unlocked amount of TRX. The Foundation will continue to increase our TRX holding in the secondary market to manifest our confidence in the development of the TRON ecosystem."
Buying back coins or token is an efficient way of supporting price and Tron is doing this to make sure sufficient reserve funding at TRON Foundation as Tron has been ranked down by market cap from 10 to 14 because of low prices of its token. According to the number provided by Coin360, TRX is trading at around $0.015532 with a market cap of $1,035,023,850 at the time of writing this article.