The last Monday was full of exciting news for Justin Sun-owned Tron Network. The most interesting news involves TRC20-based BTC, which is now available on JustSwap, Tron's DeFi protocol.
After being whitelisted on JustSwap on Monday, Tron has also announced a 14-day LP mining pool for BTC-TRX on sun.io. Through this LP mining pool, the SUN token will be mined through the staking of TRC20-BTC and TRX.
According to the announcement made on Monday, October 5th, BTC-TRX LP mining has been initiated from yesterday. The staking for TRX-BTC-LP will start from Wednesday, October 7th, and end on October 21st. During these 14-days, 7000 SUN tokens will be mined, with 500 tokens mined per day.
On September 13, Tron introduced an observation list for the SUN mining pool community to mine SUN through the creation of mining pools of world-class global assets. These assets can be tokens of the TRC-10 or TRC-20 standard and assets that are not part of the ecosystem. Mined SUN tokens will then be used as a "transit center within the TRON DeFi ecosystem, serving as a cross-chain channel between TRON and external assets."
The first batch of non-TRC10/20 tokens in this observation lists include Bitcoin (BTC), Ethereum (ETH), Ripple (XRP), Bitcoin Cash (BCH), Litecoin (LTC), Bitcoin SV (BSV), and Steem. TRC10/20 tokens under observation include Pearl, JFI, and DICE. This means that Tron lovers can expect more LP mining pools in the future.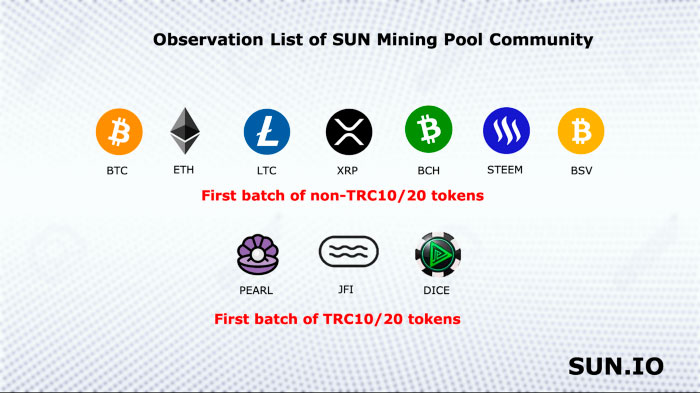 Tron further notes that it is not guaranteed that all assets on the observation list will be added to mining pools. According to the criteria, the project should have been listed on UniSwap and in the whitelist of JustSwap, maintained a fairly active community and social media interaction, codes audited by third-party institutions, and has "long worked in the TRON ecosystem and identifies with TRON's value proposition."
The announcement, about TRC20-BTC, reads:
"Issued by JUST Foundation, TRC20-BTC is another masterpiece of TRON-based crypto-asset following the miracle of TRC20-USDT whose total supply has exceeded over 4 billion. All BTC holders may issue TRC20-BTC. Now Poloniex accepts TRC20-BTC swap, and its contract has been audited by a third-party code auditing firm named SLOW MIST. All major exchanges are welcome to contact JUST to accept TRC20-BTC."
Another news involving Tron is that BitTorrent Inc., the leader in peer-to-peer protocols, has announced that that the BitTorrent file system (BTFS) will serve as the storage solution for running TRON Network nodes. Tron is the first blockchain supported by BTFS, with other blockchains to be announced soon.
---
If you found this article interesting, here you can find more Tron TRX news