Toncoin (TON) prices have nearly doubled in less than two months, soaring from around $1.16 in August to spot rates. The path of least resistance remains defined and is northwards. Notably, the spike is with rising trading volumes, indicating high participation. 
With Toncoin rising at this pace, the coin will further cement its position in the top 10, even eclipsing other coins, including Cardano, in the days ahead. 
As it is, the coin could continue soaring even higher as buyers double down, further fanning the current environment of fear of missing out (FOMO).
Telegram to Roll out Crypto Wallet on Toncoin (TON) Blockchain
Last week, Telegram, the popular messaging app, unveiled its crypto wallet. It added that it will deploy on The Open Network (TON) blockchain. 
The projected rollout is expected to be in November this year. Several countries, including users from the United States, will be excluded from access. Even so, with the announcement and the decision by Telegram to leverage the Toncoin blockchain, the wallet will be available to the over 700 million users who leverage Telegram.
Following this news, Toncoin prices rose roughly 10%. With this integration, the Toncoin Foundation said projects that already use Telegram will have priority access to the messaging platform's advertising platform. 
The crypto wallet integration into Toncoin is roughly three years after the plan was first announced. However, with regulatory challenges with the United States Securities and Exchange Commission (SEC), the plan was shelved until last week.
Toncoin Price Analysis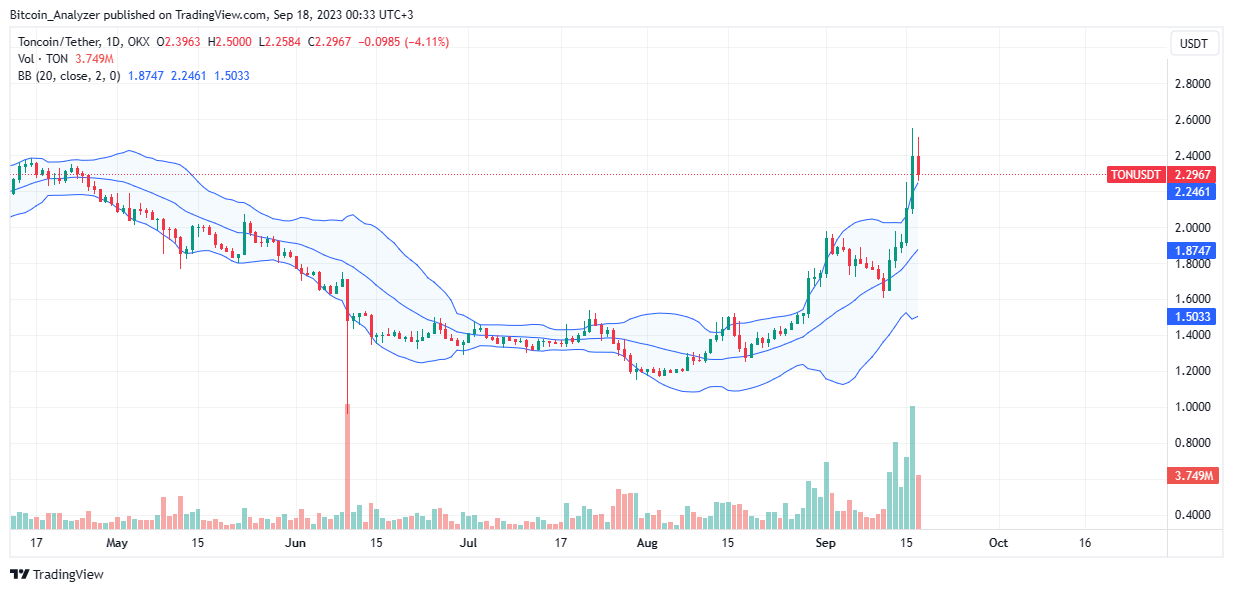 Toncoin is changing hands at around April highs and cents away from 2023 highs at spot rates. If bulls press on and build from last week's momentum, the coin could break higher, soaring to December 2022 highs of around $2.9.
Based on the current setup, the immediate resistance level is $2.55, while support is $2.05. However, provided prices, in case of a pullback, are within the September 15 and 16 trade range, every low may be a loading opportunity for traders angling for $2.55 in the medium term. 
Any slip below $1.90 and September 15 lows cancel this bullish preview. Then, the September 16 bar will be climatic, and the coin may retrace to as low as $1.65 and $1.50, respectively.
Technical charts courtesy of Trading View.
Disclaimer: The opinions expressed do not constitute investment advice. If you wish to make a purchase or investment we recommend that you always conduct your research.
---