After the latest US inflation data report, the crypto market has seen a turn for good. Many cryptocurrencies have broken bearish shackles to come out on top of tight ranges. As a result, the global crypto market cap has seen an increase of 2.25% in the last day. It currently stands over the $874 billion mark. The top performers in the market include Solana (SOL) and Toncoin (TON).
Solana has gained a solid 6.50% in the market during the last day. It currently trades over $14, which is a much-needed boost for the struggling altcoin. However, the most significant performer in the spotlight was the Toncoin (TON). It is a new token in the industry, launched by the developers of the globally renowned social media platform, Telegram.
Toncoin (TON) has enjoyed the support and acknowledgment of investors. Many crypto consumers are showing an increased interest in the project. Toncoin's PoS-supported decentralized blockchain and high scalability have immensely attracted users from all over the world. People are keen to explore and invest in the platform and its native token due to its high efficiency.
Toncoin (TON) Rides High in the Crypto Market
Within one week, Toncoin (TON) has gained around 50% in the market. It touched a high of over $2.80 and currently trades around $2.66. Moreover, the market cap of the coin also saw a sharp increase and currently stands at over $3.25 billion. It makes Toncoin (TON) the 22nd largest cryptocurrency token in terms of market cap.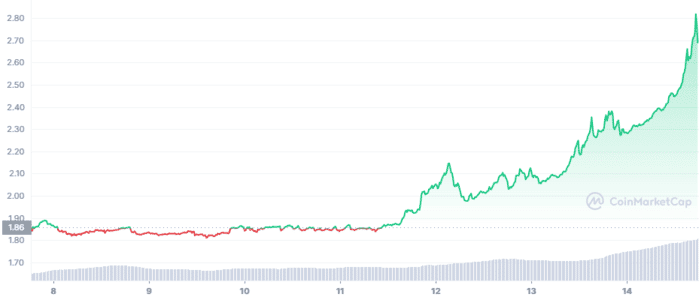 Furthermore, the coin is not looking to stop just right now. It is all set to continue its uptrend while eyeing the all-time high of $5.84. However, it still has a long way to go before aiming for that mark. Nonetheless, the positivity around the coin is making heads turn in the industry. It looks to end the year on a high after a staggering week.
The coin faces resistance at $2.99. Therefore, a move over this mark will ensure an extended bull run for the token. As of now, the short-term and long-term prospects of the token are looking positive. Toncoin's faster transactions, usability, and scalability will play a key role in its adoption in the next year. Thus, it will be decisive in the coin's price action. For now, the token is enjoying the limelight in the industry.