The technical and business challenge that the Simple Token team set out to solve is to allow conventional applications to benefit from the deployment of their own economies of tokens backed by brand encryption, in a scalable and cryptographically auditable way, without the need to coin and Keep your own public-tokens of marketable cryptocurrencies.
For Simple Token to build the enabling technology for any application to be tokenized and to benefit from having parts of its business in a blockchain, has been the motivating challenge.
Simple Token seeks that any company can launch its own economy of brand cryptography without the legal, regulatory and technological headaches involved in entering alone. This could allow them to monetize user contributions and content, drive point-to-point transactions, provide meaningful incentives and rewards, develop transparent loyalty programs and unlock thousands of new possibilities for monetization and supply / demand.
The Simple Token platform ("OpenST protocol") works with the ERC20 ("ST") token to allow any company to bet ST on Ethereum's main network to coin its own digital currency (also known as "tokens") in open scalability lateral blockchains, in a cryptographically auditable way.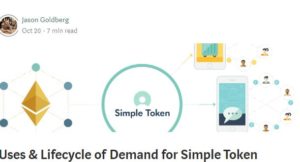 OpenST will allow application developers to focus on their core businesses and application technologies, opening the possibilities of blockchain and tokenization to hundreds of thousands of companies in front of a relatively small (but certainly powerful) army of blockchain developers in the community today.
The pre-sale of Token Simple is currently in progress, and the sale of the token has a maximum limit of $ 20 million. The sale of Token Simple public tokens begins on November 14, 2017. You can visit their website for more information about the simple Token platform and the sale of ST tokens.