Cardano has been on a roll lately pushing through the hurdles to hit new ATHs. The wild euphoria around the launch of its smart contracts triggered a massive rally all the way to $3. The worst correction of the cryptocurrency market appears to be over, for now. But ADA depicted mild exhaustion as its daily RSI bounced back from the extreme overbought region.
Despite the sellers struggling to gain an upper hand, the bullish momentum, as depicted by the Awesome Oscillator [AO], has remained unfazed. The inflow of capital into the coin market has continued as per the daily CMF. The bearish outlook does risk a major downside correction. However, the next leg of corrections might be smaller than expected. Here's why-
This might be the time to buy Cardano [ADA]
At the time of writing, more than 100% of ADA addresses were in profit. The latest chart compiled by IntoTheBlock, demonstrated a magnificent rise in the number of profitable addresses. However, the token holders haven't tried to cash out even as they are "in money" right now. This depicted a strong HODling pattern that can potentially arise out of anticipation of a price rise in the near future.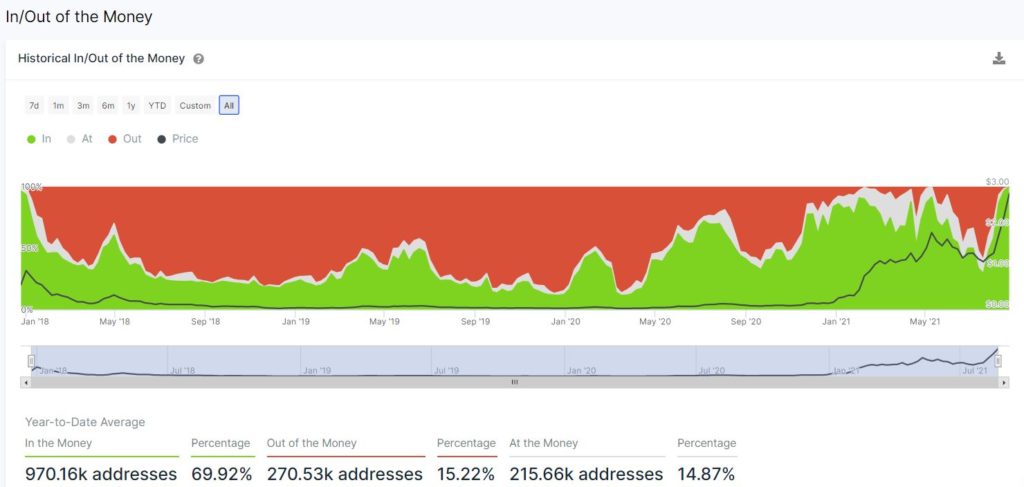 Even as Cardano's meteoric rise took a breather, the number of total addresses with a balance more than zero has increased at an incredibly fast pace. As a matter of fact, as of the 24th of August, the figures stands at 2.12 million addresses. The user addresses saw a significant jump in the first week of February this year. As price followed an upward trajectory, so did the number of addresses.
The subsequent correction in the month of May did little damage to the growing number which noted a minor dip before bouncing back. Since the beginning of the year, the address count on the Cardano blockchain has climbed by over 200%.

"Buy the rumor sell the news" effect
The "buy the rumor sell the news" effect in the crypto space is not new. Popular crypto trader Lark David echoed a similar sentiment. Despite the mega bullish sentiment, Davis believes that a possible pullback just before the smart contract launch could very much be on the cards. His tweet regarding the same read,
"Note that there is a chance we see a pull back when smart contracts launch. "buy the rumour sell the news" effect. Some don't think this will happen because SCs are too bullish. Below staking launch chart. Those on 0 ADA could wait to buy, bag holders be ready for turbulence. But that is just a short term event."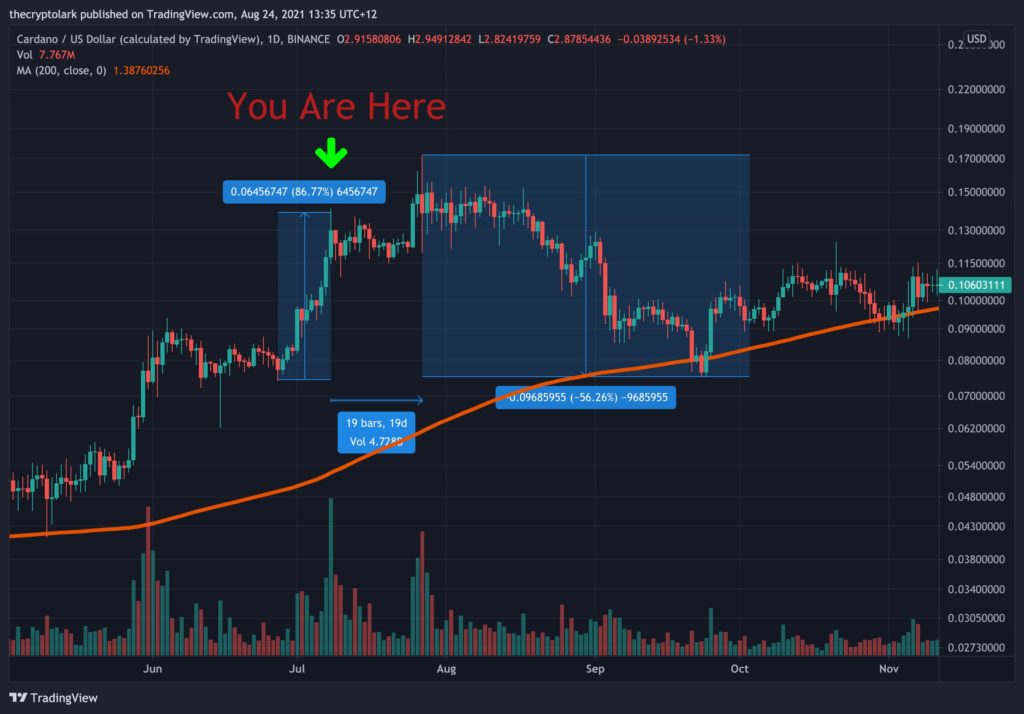 So what is a realistic price target for Cardano long term, say end of the decade?

Well a 4X pump would put ADA at the same market cap as Ethereum now = $10 per ADA

10X pump would give ADA same market cap as BTC now = $28 per ada

— Lark Davis (@TheCryptoLark) August 24, 2021