Cathie Wood, the CEO and founder of ARK Investment Management, believes that Bitcoin (BTC) is about to flip the bullish switch, so to speak, as fundamentals are once again clearly pointing to a possible upswing in movement.
According to Wood, the on-chain metrics indicate the bottom for Bitcoin, the world's biggest cryptocurrency, might have been reached, as per the latest episode of a YouTube show called "In The Know," which airs every Friday at 4:15 pm ET on the Ark Invest channel, as well as Ark's CEO and CIO.
What Are the Next Steps?
It should also be noted that Wood believes short-term holders have capitulated, according to their research. It is good to hear that the bottom is in place, as that is very encouraging. With the number of long-term holders at 65.7%, the percentage is at its highest level in history.
To put it another way, these people have held the currency for at least a year. It seems as though we have some very strong holders here, or for short, HODLers. Obviously, that's very good news, even though we may see some long-term holders capitulating as a sign of the bottom approaching.
According to Wood, she has also been watching closely the development of the futures market, which, according to her, is already showing signs of increasing activity in the short term.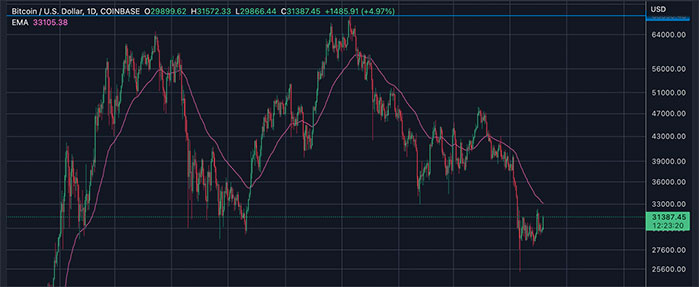 She said:
"Bitcoin futures are selling at a discount to spot Bitcoin, and during those times, we expect volatility. Now, we don't know if it's up or down, but you can see from other metrics in the piece that our thinking right now or our judgment call is the next big bout of volatility in Bitcoin will be to the upside,"
There has been a significant change in the capital flow of the crypt market in the past year, and Bitcoin's value has fallen below $30,000 as part of its decline. A substantial amount of BTC was bought by the Luna Foundation Guard (LFG), which was sold in order for the US dollar peg to be restored.
According to Wood, Ark Invest is taking extreme caution following the collapse of Terra despite what appear to be optimistic on-chain metrics.
According to her, her company is on guard to protect its assets. According to her, the recent Terra disaster amounted to a new fiasco in crypto in that it failed to raise the bar for regulation by giving regulators even more of a reason and incentive to come in and regulate crypto a little bit more than they originally intended.