Hut 8 and US Bitcoin announced their intention to merge in an official announcement. The merger, which will result in the creation of the company "New Hut," or "Hut 8 Corp" is still subject to court and regulatory approval in the United States and Canada.
Expanding the Shares
Today, the companies announced that their respective boards of directors unanimously approved a definitive business combination agreement under which the companies will merge in an all-stock merger of equals.
The combined company will be known as "Hut 8 Corp." and will be based in the United States. The transaction is expected to establish New Hut as a large-scale, publicly traded Bitcoin miner focused on cost-effective mining, diverse revenue streams, and industry-leading ESG best practices.
New Hut will have access to approximately 825 MW of gross energy across all six sites with self-mining, hosting, and managed infrastructure operations.
At five current self-mining sites, it will have 5.6 EH/s of installed self-mining capacity and 244 MW of total energy available.
USBTC is still involved in a legal dispute with the City of Niagara Falls, New York, over operations at the same location. While operations continue as usual, the team has a backup plan in place in case a resolution is not reached.
New Hut will manage 220 MW of hosting infrastructure at its King Mountain, TX location, powered by a mix of renewable and nuclear energy sources and serving multiple clients, including some of the industry's largest miners. The King Mountain JV owns the hosting. The Combined Company will oversee infrastructure operations totaling 680 MW.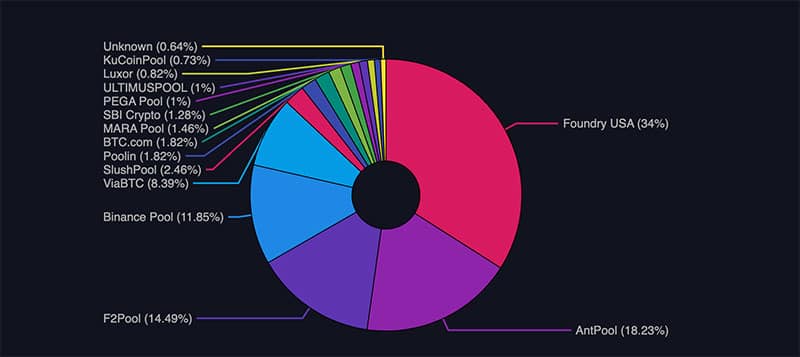 Bitcoin mining is currently toward centralization
The announcement contains extensive information about the merger and its outcomes. Although this can be good news for these companies' investors, some may be concerned about the expansion of power and market share. After all, regulators may approve this transaction, resulting in increased competition from other miners.
Remember that many industry participants are concerned about the mining sector becoming centralized. It is unclear what consequences these actions will have.
After all, the crypto industry isn't here to be hurt bu some mergers or expansions. Decentralization is the soul of technology. More people and actors will come to the competition and divide the shares. Moreover, when the halving happens in the coming months, competition will be harder.
After all, the competition between US and China will be more fierce, even after China continues to change the regulations for mining and other crypto sectors.