The exchange of 10,000 BTC from BTC-e, to the crypto wallet associated with the hack of Mt Gox, has taken place. With the move, a majority of the crypto has found its way into personal wallets, after lying dormant for more than seven years in the account.
What Are the Destinations?
The Chainalysis website stated that yesterday BTC-e transferred nearly $165 million worth of Bitcoin (BTC) to a group of Bitcoin wallets, exchanges, and other services – representing almost the majority of the Bitcoin remaining in the service's wallet. There has never been a withdrawal of such magnitude by BTC-e's controllers since April 2018.
As a backgrounder, BTC-e was an exchange that focused on the Russian market that was shut down in 2017 by U.S. authorities because it was involved in laundering funds that were associated with several forms of cybercrime, including those that were used to steal cryptocurrency in the 2014 hack of the Mt Gox.
In spite of the fact that today's withdrawal of $165 million marks the largest withdrawal of funds from BTC-e's wallet since April 2018, withdrawals from its wallet actually began nearly a month ago.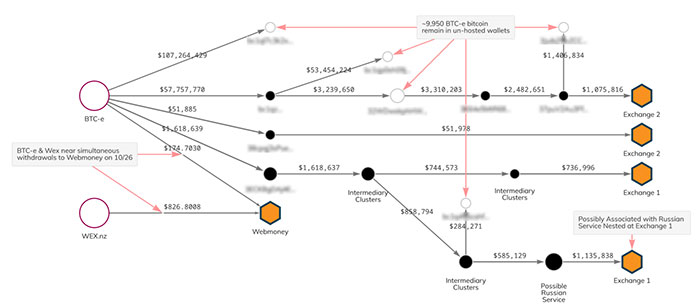 On October 26, several small amounts of Bitcoin were sent to Webmoney, a Russian electronic payments service that supports cryptocurrency, by both BTC-e as well as WEX, a cryptocurrency exchange generally understood to be the successor of BTC-e.
On November 11, BTC-e, a test payment was made from its wallet, and they then transferred approximately 100 Bitcoins directly to an exchange on November 21, two days before this payment was made.
The second example that we can provide here is the transfer of over 100 Bitcoin by BTC-e in October 2021, which at the time of the transfer was valued at over $6 million, from its servers to personal wallets, and at the end to several exchanges that service Russians and others in Eastern Europe.
A total of approximately 9,950 Bitcoin was sent in the last few days to a number of personal wallets. The rest of the Bitcoin, on the other hand, was moved through four deposit addresses at two large exchanges through a series of intermediaries. According to the analysis, it is possible that a Russian exchange served as a middleman in the laundering of this BTC-e money. However, there is no proof that this was the case.
As a result of the recent transfer, alarm bells may go off in the minds of whales (even criminals) who may be considering selling their Bitcoins. In addition to that, it is also possible that it can be used in order to launder assets.