The global crypto market cap observes a 11.67% increase in the last 24 hours catapulting to $1.91 trillion, while trading volumes jumped 29.97 percent to $110.87 billion during the same period.
In the last couple of weeks, the crypto market witnessed a sharp decline as fears of the Russian invasion of Ukraine reached at an all time high wiping almost $200 billion from the combined $1.9 trillion crypto market. The price drop in cryptocurrency had prompted some market participants to reckon that the so-called "crypto winter," or an extended period of bearishness, could be imminent.
However, amidst all the hullaballoo, the crypto market seems to have woken up with the top cryptocurrencies floating in the shade of green. From Bitcoin and Ethereum to Terra and Avalanche, all are in the green today.

The Market Is In Green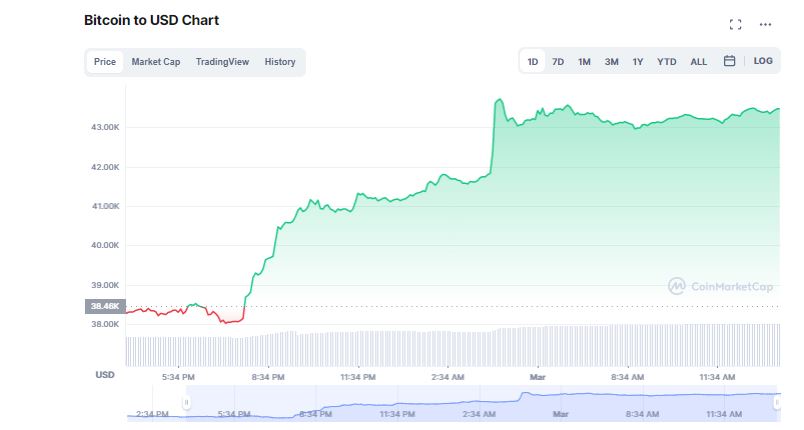 According to CoinMarketCap, Bitcoin (BTC) experienced a sudden jolt, climbing above $43,000 after trading below the $39,000 level in the previous session. The world's most popular and largest cryptocurrency surged over 13% to $43,396. Ether (ETH), the coin linked to the Ethereum blockchain and the second-largest cryptocurrency in terms of market capitalization, also showed signs of recovery, jumping over 11% to $2,921. On the other hand, the most popular meme coins, Dogecoin (DOGE), was trading about 7% higher at $0.13 whereas Shiba Inu also gained more than 9% to $0.00002582.
The performance of other digital tokens also improved with Terra rising over 20% whereas Solana, XRP, Avalanche, Stellar, Polygon, Litecoin, Cardano, Polkadot, Terra prices were trading with gains in the range of 6-18% over the last 24 hours.
Over the last 24 hours, the total volume in the decentralised finance (DeFi) space stood at $17.39 billion, constituting around 15.69 percent of the 24-hour cryptocurrency trading volume. The total volume in stablecoins stood at $91.66 billion, around 82.67 percent of the 24-hour cryptocurrency trading volume.
What May Be The Reason Behind This?

The crypto market rose after the Treasury Department imposed a fresh set of sanctions against Russia's central bank. Russian citizens have been standing in lines for hours to withdraw their money from banks and put them into other assets.
It's possible that many Russians seeking a safe haven for their assets are turning to Bitcoin, too. Also, Russian citizens may be moving their depreciated Russian currency into Bitcoin and other cryptocurrencies to serve as a store-of-value hedge against their government's invasion of Ukraine.