As most cryptocurrency investors already know, yesterday's CFTC charges for BitMEX had a significant effect on Bitcoin. While the exchange still works and withdrawals remain open for all users, we are left wondering whether this is the full effect the news had or if the reaction is delayed.
Bitcoin plummeted only to $10.5k after being close to breaking out at $10.9k. As some of the older investors have already noticed, this news would have caused at least a 20% dump years ago.
So where are we now? After the first dump, Bitcoin slowly rose to $10.6k where it was stuck in effectively a $20 range. Circulating in that range for hours, it was uncertain how the situation would further develop.
However, the leading cryptocurrency managed to break out of the range just in time for a 4-hourly close at 4 AM UTC. Nevertheless, bears were saved by the most unexpected news that day, if not in the entire year. The U.S. President Donald Trump shared on Twitter that he was tested positive for COVID-19.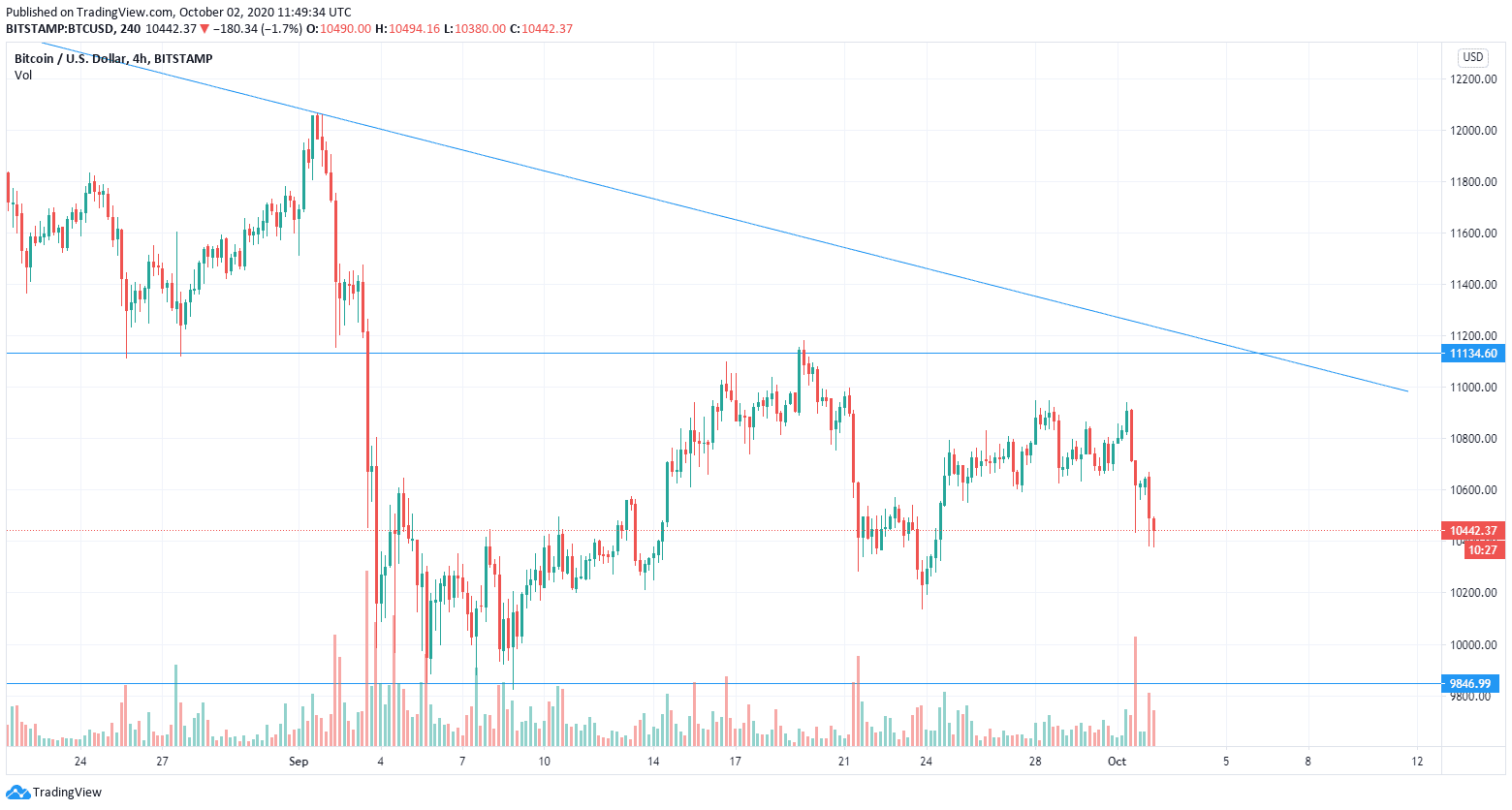 September price action on the 4H candle
Both prices in legacy futures and crypto markets soon collapsed. Furthermore, the dollar index slowly started to increase, indicating trouble, not for just crypto but all stock markets. At the time of writing, Bitcoin bounced from $10.4, but is this really the end to all of this?
At this point and time, investors are simply waiting for U.S. stocks to open and show how volatile the markets really are. Some have even predicted a red Friday last night as mainstream media revealed that Republicans do not plan to accept the proposed stimulus bill from the Democratic party.
CME Gap, April Highs, or March Lows?
Where Bitcoin is headed for next is a real mystery. While bulls hold onto the hopes that the plethora of recent breaking news affected nothing, bears propose that Bitcoin's perspective has radically changed.
For all we know, we might have a delayed reaction not only to the BitMEX charges but for Trump's coronavirus ordeal as well. On that account, the popular saying 'the sky is the limit' is quite inverted now.
Where might Bitcoin find support? Is it at the famous CME gap around $9.7k or will we visit $8k or even lower? In 2020, we have seen how great of a support the $7k range is, so not even that is out of the question. But what happens if even the diamond-tier support at $7k does not hold? Combined with the macroeconomic downturn, the leading cryptocurrency may be headed for its March lows again.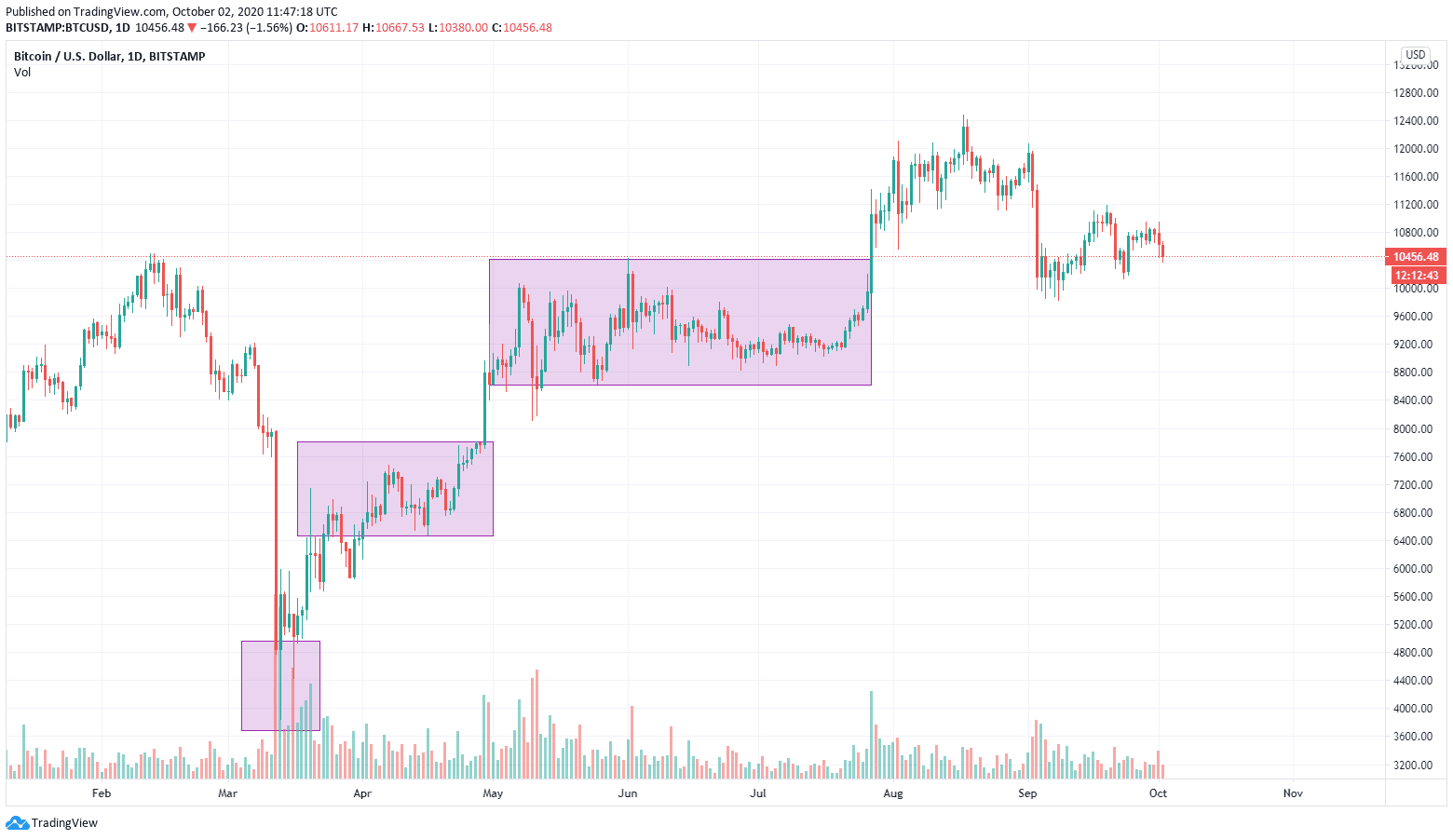 Three ranges that held as support in 2020
The BitMEX charges may end up being what the Mt.Gox collapse was for older investors. An event that made people think if Bitcoin was really over.
But as we all know, too many events have been maliciously claimed to 'kill Bitcoin.' After 11 years of its existence, the leading cryptographic solution is stronger than ever.
While prices are still inflated, fundamental values did not go anywhere. What happened yesterday to a leading derivatives exchange might just be the thing crypto needed for a healthy recovery. As for Arthur and the BitMEX team, we wait to see whether they will fight off the charges or close forever.
---
If you found this article interesting, here you can find more Bitcoin news