TzStats, the leading Tezos explorer, released TzStats v2 in the beta phase. The new explorer is a mark for 1,000,00th block in Tezos blockchain, too.
"It's our mission to empower you to understand what happens on blockchains, and we take great pride in providing the most used and popular Tezos explorer. With TzStats' second version, we take it to the next level," announced the TzStats team.
TzStats was launched in July 2019 and experienced excellent traction in the Tezos community. The simple design language and robust feature base in the first version made it the first choice for many Tezos users and developers. Now the development team aims to provide more analytical and informational features next to improved UI. The design of data layout and details in TzStats needed improvement, and users demanded highly for a stable mobile version.
"We listened. Building on our card-based modular design, TzStats v2 has been created with mobile-first in mind. What's more, in addition to refining existing capabilities, we are shipping community-requested features," according to TzStats.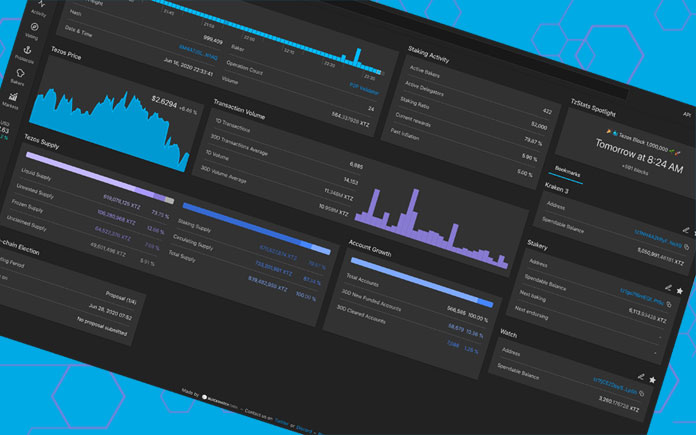 TzStats V2 is in the RC1 version, and users can access it via https://staging.tzstats.com/. The development teams more features and design improvements will happen in the final version. The new version will migrate to the main domain soon. TzStats team says users can enjoy the improved mobile UX, and also they can:
Use the sidebar and search bar to navigate. Customize your settings.
Visit the new Cycle, Block, Activity, Voting, Protocols, and Bakers pages.
Check your account(s) and add bookmarks.
The development team behind TzStats has other tools for the Tezos community and commits itself to improve current services next to developing some new ones. Tezos Data API is one of their products that, next to TZIndex, provide various useful functions to Tezos Developers and users.
Users can try the TzStats v2 in the RC1 version and provide feedback to the development team for further improvements, using #tzstatsv2 hashtag on twitter or discord.
"Going forward, we are releasing increased customization, coordination, and tracking abilities for particular user needs," TzStats added.
---
If you found this article interesting, here you can find more Cryptocurrency news