2021 has been a year of adoption and growth for Tezos blockchain. After a blockbuster year in terms of user interaction with smart contracts, Tezos may be seeing a similar drive going forward as well.
According to the latest report by DappRadar, decentralized applications [dapps] on the Tezos blockchain are experiencing an increased interest from users this week. This can be attributed to the fact that these investors continue to diversify the services they use.
Tezos Shines as NFT and DeFi Attracts Investors
In the spotlight are NFT marketplaces – Hic et Nunc and objekt.com. The report mentioned that these two platforms are essentially "riding high" and even went on to record more than 21,000 active wallets in the last seven days. Another reason why Tezos Domains seem to be still "grabbing attention as rumors of an ENS-style airdrop continue to circulate."
DappRadar maintained that the figures for active wallets interacting with the decentralized applications are not massive when compared to similar dapps on other leading blockchains such as – Ethereum or Binance. However, the growth trajectory does exhibit a "strong signal" that Tezos dapps have been offering the necessary utility and attractive services to those investors who are in need.
In addition to the aforestated NFT marketplaces that have successfully managed to attract the active wallets, its decentralized finance [DeFi] and exchange dapps are not behind either. As a matter of fact, the charts show that Tezos DeFi and exchange dapps are witnessing the biggest percentage increases week over week.
QuipuSwap, a similar platform to that of Uniswap, has ramped up its active wallets by approximately 180%. Simultaneously, Kolibri, which happens to be a Tezos-based stable coin built on Collateralized Debt Positions [CDP], has advanced by more than 232% during the same time.
XTZ Price Performance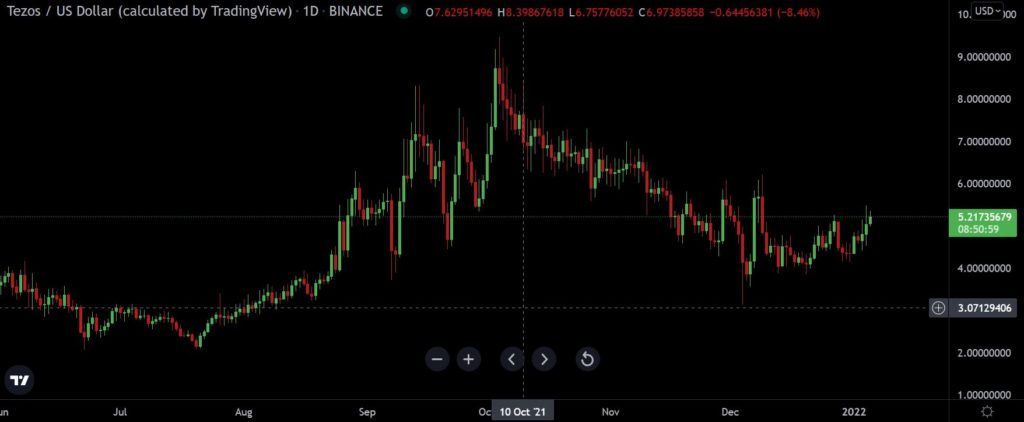 This year, Tezos' native XTZ token is one of the few leading assets in the market that has managed break away from the wider market lull and post weekly gains of almost 20%. Despite subsequent setbacks, XTZ appears to be poised for another leg up in the near future. At the time of writing, the asset was exchanging hands at $5.21 with a market cap of $4.55 billion and a 24-hour trading value of $533 million.
DappRadar speculared that the growing usage and adoption of dapps on the Tezos blockchain should eventually drive trading volume on the network. This, in turn, can flip XTZ and stimulate the price further.