Amid a broader jump in global markets, Terra [LUNA] pulled a v-shaped recovery after rallying 11.45% in the past day alone. The LUNA market looks significantly bullish as it bounced from a critical support point.
The bloodbath and the subsequent pullbacks inflicted significant misery on top assets such as Bitcoin [BTC] and Ethereum [ETH]. But Terra has, so far, managed to dodge the downwards pressure and was eyeing to reclaim the highs. 
Kraken Boosts Terra
Interestingly, the current rally comes at a time when prominent cryptocurrency exchange Kraken announced support for LUNA. The funding went live on the 14th of December, trading is set to commence today.
The official blog post had stated,
"Funding is live, and trading will begin Thursday, December 16 — at which point Kraken will enable order entry and execution. Keep an eye on the status page for updates. You can add LUNA to your Kraken account by navigating to Funding, selecting the asset, and hitting Deposit. Deposits require no confirmations. LUNA will be tradable against USD and EUR, with a price precision of 2 decimal places."
LUNA Burn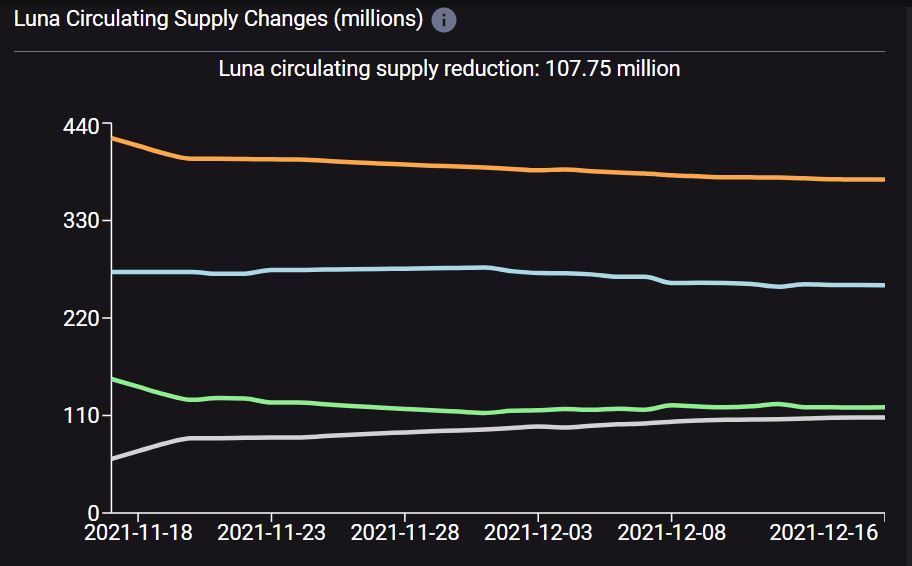 Yet another reason for such resilient price action is the burning of LUNA tokens since the beginning of December. Crypto-Economy had earlier revealed the crucial Columbus-5 upgrade on the Terra network which has boosted the asset's price and even form a new peak in the first week of December. According to the stats compiled by Terra Analytics, more than 107 million LUNA tokens have been burned which has resisted damaging corrections this month. 
Terra [LUNA] lean towards the upside

The Chaikin Money Flow [CMF] depicted a steady increase in capital inflow into the coin market. The MACD, on other hand, appeared to be on the verge of a bullish crossover as the price of the asset underwent a recovery, while the On Balance Volume [OBV] showed a consistent rise.

It is important to note that LUNA bounced off from the 50 daily moving average [Pink] on the 13th of December. Meanwhile, the 100 daily moving average [Yellow] continued to  This triggered a v-shaped recovery as it headed to reclaim the previously established all-time high. Currently, the market is witnessing a rising buying pressure in the market, as indicated by the Relative Strength Index [RSI].
At the time of writing, Terra was exchanging hands at $64.02. If it breaches the immediate resistance level of $68, a rally nearing $80 may transpire very soon.