Terra [Luna's] impressive feat helped the asset notch an all-time high on December 2nd. After decoupling from the wider dull market, Terra went on an independent rally as it registered a weekly rise of a whopping 53.33%.
Is Terra [LUNA's] sporadic rise sustainable?
One thing to remember is that the price movement comes at a time when the Terra ecosystem is flooded with new proposals surfacing as the network gears for widespread adoption of UST stablecoin. The jaw-dropping price is currently riding a wave of enormous interest in its creative stablecoin products.
It all started with the Terra network's Columbus-5 upgrade which enabled the stablecoins pegged to their fiat value. As such, whenever UST is minted, the same amount of value of its native token LUNA is burned. Since the upgrade went live in September, over 94 million LUNA tokens have been burned.
Jeremy Ong, who happens to be the vice president of business operations at prominent cryptocurrency research firm Delphi Digital stated that LUNA's price goes up in tandem with UST's demand.
1/ A new proposal to significantly increase $UST liquidity on @CurveFinance pools via a 6-month incentive plan through @VotiumProtocol, @ConvexFinance, and @TokenReactor is now posted on Agora 👇https://t.co/PiUnSqWUCw

— Terra 🌍 Powered by LUNA 🌕 (@terra_money) November 30, 2021
Besides, the main objective behind all the other recently submitted proposals is essentially to make UST the primary interchain stablecoin. A new proposal has come into being that aims to increase UST liquidity on Curve Finance, via a six-month incentive plan with the help of several Terra applications.
Hitting highs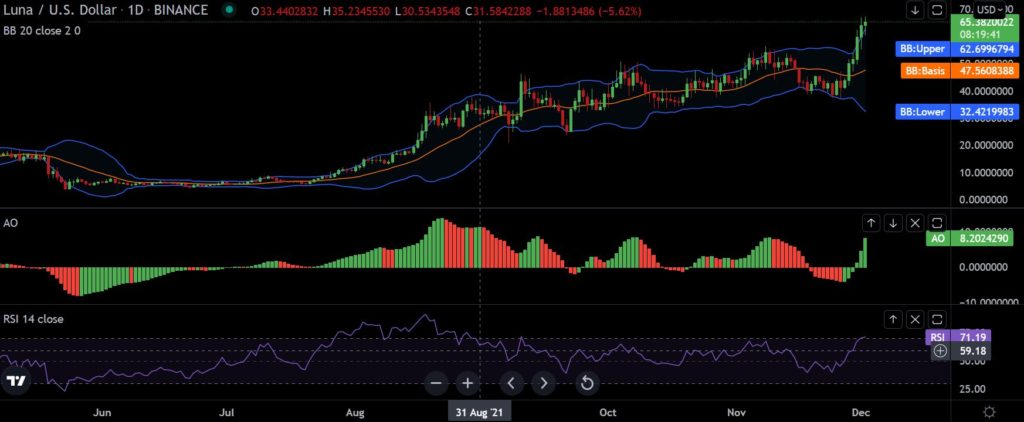 The diverging Bollinger Bands [BB] depicted tremendous volatility in the LUNA market. The closing green candles of Awesome Oscillator [AO] flipping positive is yet another promising turn of events. So is the surge of Relative Strength Index [RSI] above 71, as it eyed the overbought zone.
The rising volume may further cushion the ongoing price action. Besides, the 50 DMA [Pink] and the 100 DMA [Yellow] remained well below the price candles. Meanwhile, the rising MACD indicated buyers have the upper hand in the market.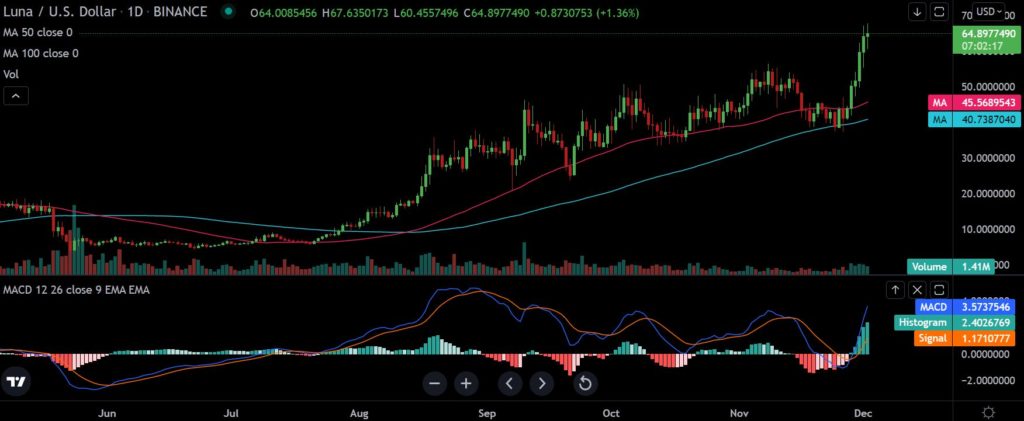 The overall market trend appears to be positive. A reversal does not seem likely at this point.
According to the latest charts by DeFi Llama, Terra is the fifth-largest smart contract platform. It total value locked also hit an ATH above $13 billion today.
Since the beginning of the year, the figures have maintained a steady upward trajectory and a few higher lows. The major drop came in the last week of November when the market saw a significant pullback. Since the lows of $9.1 billion on the 25th of November to the press time figures of $13.16 billion, Terra's TVL has increased by more than 44%.