In the early hours of this morning, Terra (LUNA) reached yet another all-time high of $105.91, raising its total market capitalization. The cryptocurrency's value has increased by more than 10% in the last 24 hours, according to CoinMarketCap. In terms of market capitalization, it maintains its eighth-place position on the list.
It was only a few weeks ago that whispers began to surface about Terra purchasing Bitcoin as a reserve asset for its bank accounts. On-chain analysts began spotting purchases that appeared to be associated with the non-profit organization, although there was no official confirmation of the affiliation at the time of publication.
Continuous Uptrend is Possible
It has been demonstrated that one of the most important bullish triggers for bitcoin's price is speculation about the number of acquisitions, which has resulted in the rise of the price of the largest cryptocurrency. A large number of people have speculated that Terra is the only one who is carrying the weight of the ongoing rally on its shoulders.
Terra's native tokens, LUNA and LUNA-X, belong to the Terra network, which is a platform that allows developers to construct custom blockchains and decentralized apps on top of Terra for a wide range of diverse use cases.
In addition, the Luna Foundation Guard (LFG), a Singapore-based foundation that is purchasing more than $3 billion worth of bitcoin as an additional layer of security for UST, Terra's decentralized dollar-pegged stablecoin, has contributed to the increase in sentiment for LUNA over the course of the previous month.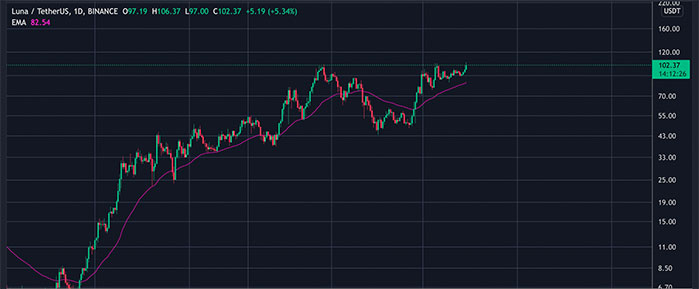 In response to the increased demand for bitcoin from LFG, the price of bitcoin has seen a significant increase over the last week. Cryptocurrency Bitcoin reached a fresh yearly high of $47,000, marking its highest level since the start of the year.
LUNA has risen by an incredible 86,215.7 percent in the two years since hitting an all-time low of $0.121798 in March 2020, according to the most recent available data. Consequently, it ranks among the best-performing tokens on the cryptocurrency market.
At the time of writing, LUNA has a market valuation of $37 billion, making it the eighth-most valuable cryptocurrency in terms of market capitalization among all other cryptocurrencies combined.
Assuming that the daily candlestick for the LUNA price is green, this would be a strong indication that the positive outlook has been justified. It is possible that this type of market behavior could persuade previously indifferent investors to rejoin the market, which will aid in the realization of the LUNA price's upside potential.