Bitcoin maintained steady on Tuesday, barely below the year's high reached the day before. It's now trading at about $47.6K and many believe it can be the start of a continuous uptrend for the coin.
Bitcoin reached a high of $48,234 on Monday evening, the highest level since December 31. It then started to decline a bit but was up 0.9 percent from its previous close. Bitcoin reached an all-time high of $69,000 in November before plummeting nearly 30 percent in just 24 hours.
Because of bitcoin's advances, smaller cryptocurrencies that tend to move in line with bitcoin saw their prices rise. Ether, the second most valuable cryptocurrency, reached $3,436 on Monday, its highest price since early January.
What Happens Next?
Participants in the market pointed to indicators of a fresh wave of acceptance of cryptocurrency by institutional investors and financial organizations, which has fueled the cryptocurrency's transition from a niche technology to mainstream assets over the past two years.
Among the encouraging remarks were those made by BlackRock Inc.'s (BLK.N) chief executive, who stated last week that the Russia-Ukraine conflict could have the unintended consequence of speeding up the use of digital currencies as a method of international transaction settlement.
According to Noelle Acheson, head of market research at U.S. crypto business Genesis, such moves show an increasing conviction that the crypto markets are worth devoting greater resources to.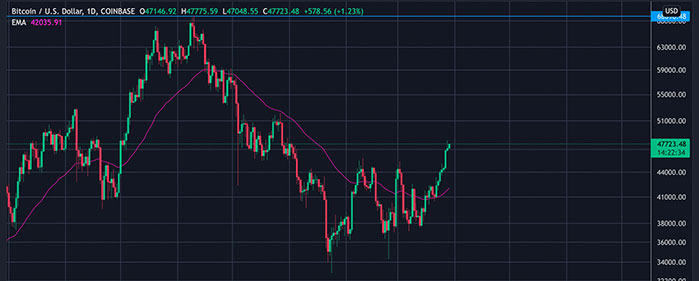 Bitcoin and other cryptocurrencies are now spoken in the same breath as traditional assets such as equities, foreign currency, and bonds, despite the fact that they are still extremely unstable.
After seeing a tremendous bullish climb over the previous few weeks, traders and investors alike are anticipating a downturn in bitcoin's price action. However, it is possible that this will not happen. Bitcoin has already reached fresh 2022 highs, and if the cryptocurrency achieves a daily close that puts BTC in the black for 2022, it might spark a wave of significant institutional positioning.
If institutional involvement continues to exhibit historically regular behavior and positioning, the Bitcoin price may remain around the $47,500 to $48,000 price range until July. When considering that situation, the $50,000 value area will be the next price zone to be tested for resistance.
There are a variety of things that could be contributing to the current spike in the Bitcoin chart. Some people believe that the embracement from organizations and governments is the reason for this. Others are making predictions about the possibility of FOMO and the influx of new money into the market. In any case, Bitcoin has had a solid start to the week, and it has the potential to assist the monthly candles to turn green as well. It has the potential to bring about another spring for the entire market.