LUNA prices are still in red at spot rates. Like the rest of the cryptocurrency market, the coin is under immense selling pressure, sliding 24 percent week-to-date. Sellers are evidently in a vantage position, unwinding progress made in the second half of 2021. LUNA is trailing the USDT and equally performing dismally versus the BTC and ETH.
Overall, though Terra has been growing in strength in the past few months, sellers are in control. There is nothing much to show reading from the performance in the daily chart. However, from a fundamental perspective, LUNA is solid. It could easily tear higher once price action re-aligns with the trend in the second half of 2021.
UST and the Terra Ecosystem
Terra aims to drive the adoption of crypto in payment, helping revive Satoshi's vision with Bitcoin. Within the expansive Terra ecosystem, the goal is to use crypto solutions as an alternative to traditional finance options, which, though improving, are intermediated.
Thus far, LUNA and UST, its stable coin, occupy slots in the top 10. Eventually, Terra aims to purchase $10 billion of BTC to support the stablecoin, central to the Terra ecosystem comprising over 100 projects.
By early May 2022, the Terra Foundation has raised funds, purchasing over $1.5 billion of BTC as part of their efforts to ensure the UST is sufficiently stabilized. Overall, the more UST grows, the more favorable it becomes for LUNA, propping prices due to increasing scarcity.
LUNA Technical Analysis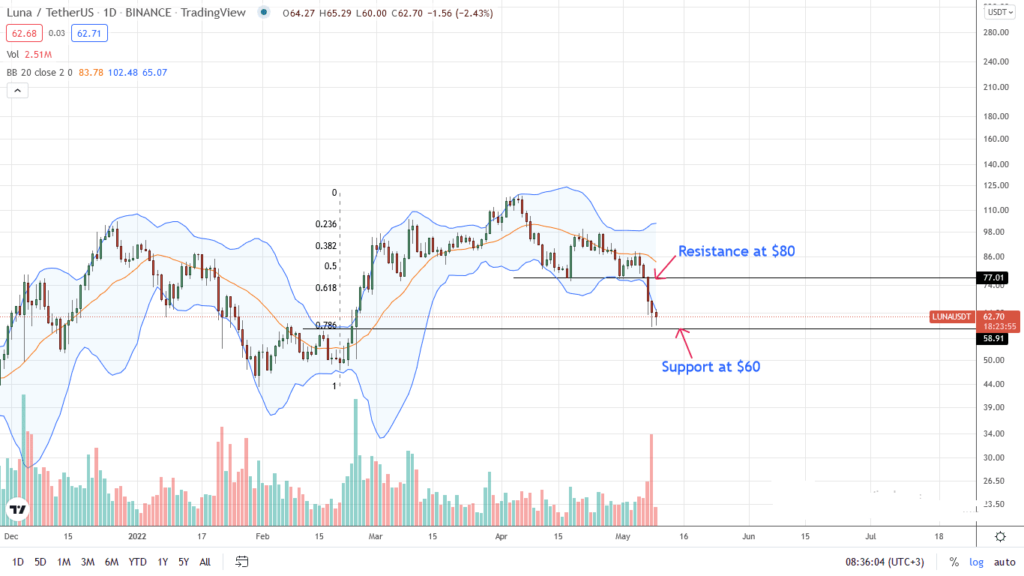 LUNA is down 24 percent in the past trading week, reading from the performance in the daily chart. Technically, sellers are in control—for now. The immediate resistance level stands at $80, marking April 2022 lows. On the other end, the primary support is $60—the 78.6 percent Fibonacci retracement level of the Q1 2022 trade range.
Overall, sellers are in control. Provided prices are below $80, every pullback offers an entry to liquidate. LUNA bars are banding along the lower BB, pointing to strong downside momentum—an indicator supportive of sellers. As we advance, sellers could double down. If prices dump below $60, LUNA would likely slide to $45—or around Q1 2022 lows. Conversely, gains above $80 invalidate the current bear run, allowing prices to recover, even retest $120—flashing with April 2022 highs.
Technical charts courtesy of Trading View.
Disclaimer: Opinions expressed are not investment advice. Do your research.
---
If you found this article interesting, here you can find more LUNA news.