Terra (LUNA), plunged more than 90 per cent in the last 24 hours amid a global cryptocurrency market crash. Terra ecosystem's stablecoin TerraUSD is down over 46 per cent as the recent market turbulence put too much pressure on LUNA and UST, causing the stablecoin to lose its peg.
Amid a carnage in the crypto market, one crypto project has nosedived the most, wiping out about 90 per cent of its value in just 24 hours. According to CoinMarketCap, Terra (LUNA) price has witnessed a meteoric downfall depreciating by 90.67 per cent per cent in the past 24 hours, to $2.74, at the time of writing. Its stablecoin, TerraUSD (UST), lost its dollar peg for the second time in three days, falling to as low as $0.49. As UST 'depegged' price of LUNA, its sister token, has taken a big hit.
What Went Wrong With Terra?
It seems the debacle began when Terra's algorithmic based stablecoin TerraUSD(UST), which is pegged against the dollar, fell sharply to almost $0.6. With that, Binance, temporarily stopped the withdrawal of UST and LUNA. All this led to a cascading effect on the prices of LUNA, spiraling it out of control.
Withdrawals on Terra Network $LUNA temporarily suspended.https://t.co/hIGrAEzOwD

— Binance (@binance) May 10, 2022
As the US Dollar devalued, the UST Curve pool gradually shrunk as users exchanged UST for competing stablecoins when UST began trading drastically below its dollar peg. The price of LUNA, the collateral for UST fell as a result of short selling. To alleviate the negative price pressure, Terra was forced to coin more LUNA.
Since the UST is pegged against the US Dollar, Terra maintains a collateral reserve in the form of its LUNA tokens. When the UST exceeds $1, users are incentivized by the Terra protocol to burn LUNA tokens and mint UST. The protocol reverses its incentives when the UST drops lower than $1. This strategy helps maintain stability.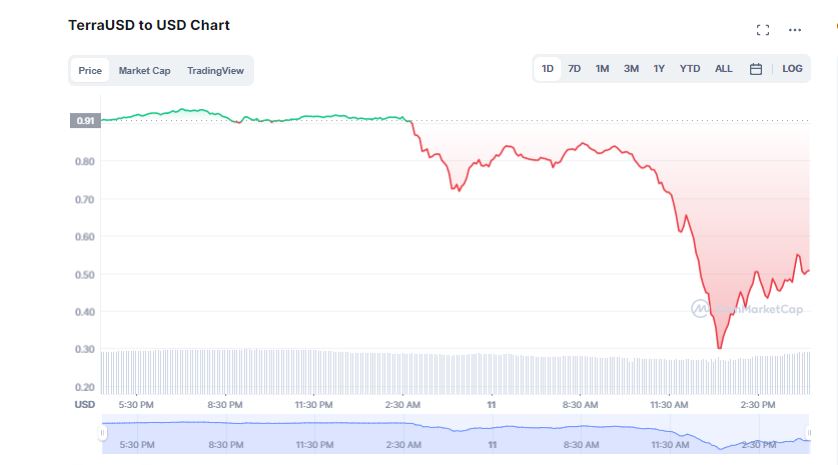 What Is Expert's Take On The Massive Terra Slump?

Edul Patel, CEO at cryptocurrency company Mudrex, said there are multiple factors behind this drop, including its high beta and offloading from a big whale, which has impacted the stability of LUNA. He remarked,
"Terra has been acquiring treasury chests of Bitcoin to maintain the stability of its algorithmic stablecoin, UST. As soon as BTC dipped, Terra's LUNA was under massive selling pressure."
Jennifer Lu, co-founder of Singapore base crypto exchange Coinstore, explained that during the larger liquidations due to the macro-market volatility, UST fell down to as low as $0.60 yesterday which sparked a major sell-off in LUNA and resulted in one of the biggest price crashes in LUNA's history. She warned,
"This phase of instability in LUNA will remain because the overall crypto market is expected to remain choppy in the coming weeks."