With a franchise business model, Amar Hidroponia and its own cryptocurrency Agrocoin is a case of successful blockchain entrepreneurship and about which we will talk here.
Amar Hidroponia is defined as a company dedicated to promoting the practice of agriculture in hydroponics processes, through its business model, relying on technology and developing integral projects that generate employment. It also defines its mission to provide the market with agricultural products of the highest quality with the support of the best technologies to protect the health of consumers and the environment in general.
Located in Mexico, this company has been successfully developing its activities, and it is not until the end of 2017 when it launches its blockchain project to leverage financing and allow more people to be part of it: Agrocoin.
But let's see a little more about the main activity of Amar Hidroponia. Hydroponic agriculture is a method of cultivation in which plants receive the necessary nutrients through aqueous mineral solutions, instead of fertile soil, as most conventional methods do.
This method of cultivation has focused on the harvest of a particular product, the Chile Habanero, which is traded mostly to the United States, and a part in the Mexican territory. At present, the company cultivates 5 hectares financed by agrocoins, and the first harvest of this business model will be in March 2018.
Amar Hidroponia has developed an Agroindustrial Park in the Town of Leona Vicario, Quintana Roo, Mexico, which is where the crops are based. Habanero Chile was chosen thanks to its growing demand abroad, the stability of its prices and the climatic and soil conditions of the area that make it ideal and viable for its production.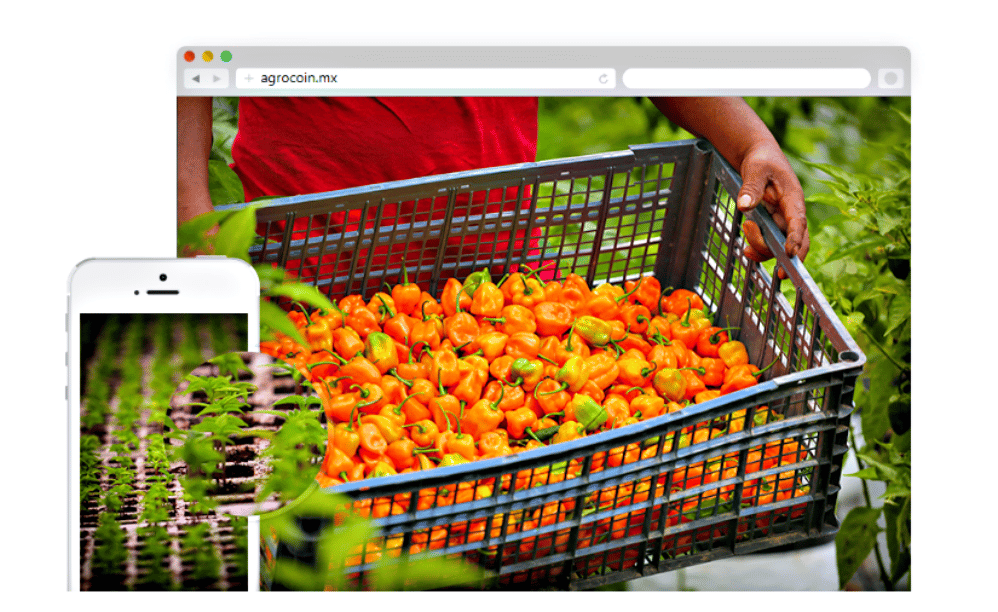 Regarding the business model itself, Amar Hidroponia sells its franchise concept, which has a cost of 3 million 150 thousand Mexican pesos and that includes the purchase of one hectare of land in the agro-industrial park, with the construction of the installation for the plants of Chile Habanero, and the capital to produce the first plant harvest cycle. Because it is an important sum to acquire the franchise, Amar Hidroponia decided to adopt the blockchain solution and create the Agrocoin, which also allows investors of all levels to participate.
The agrocoin costs 500 Mexican pesos, and is equivalent to one square meter of land and production. At the same time, for each hectare of land there are 10 thousand agrocoins of measure. Agrocoin is a series of Intelecting Contracts (Smart Contracts) that are backed by productive and tangible assets that guarantee a base value in their price, and function as an investment vehicle for the production in this particular case of Chile Habanero.
Each square meter of land in this project allows to produce up to 6 kilos of Chile Habanero, with a price of between 50 and 70 Mexican pesos. The profits of the production are distributed proportionally according to the holders of agrocoins on a quarterly basis.
One of the advantages of this blockchain solution is that it is not speculative, and therefore, is not subject to the volatility that characterizes other digital currencies such as bitcoin for example, since agrocoin is directly supported by a productive asset and successfully tested.
To make an investment in Amar Hidroponía through this business model, you can contact the company via email to [email protected] who will proceed to create access to the digital contract and assign the Agrocoin that you wish to buy.