Even though the market was bearish and most coins were in red, STEP (GMT) showed another bull run reaching $4. STEPN is currently ranked 45th among the top cryptos in terms of market capitalization as of press time, according to CoinMarketCap.
As of today, GMT, the exercise-based and Web3-enabled token, is trading at around $3.99 after touching the $4 line yesterday and rocketing by 24.5% since then, hitting new all-time highs. GMT's weekly rally was also the largest among the top 50 cryptocurrency indices. In the last four weeks, GMT has been on a steady uptrend since late March, when it burst past the $0.86 resistance on its way to hitting the $0.84 resistance.
Another FOMO?
It is believed that the latest rally was accompanied by a spike in volumes, according to data collected by Santiment. It must be noted, however, that with GMT reaching new heights, corrections must be considered.
The STEP network is a self-styled web3 lifestyle application with a game-based architecture on the Solana blockchain. Moreover, it combines the play-to-earn elements with the fitness aspects to create a category of products dubbed move-to-earn. Users purchase NFT sneakers, which they then use to earn in-game currency while they walk, jog, or run.
By incentivizing millions of users to follow a healthier lifestyle, STEPN is seeking to revolutionize the market of fitness applications. In addition to offering "proof of movement" – the ability to prove that users actually exercised – this app provides a functioning GPS system as well. It contributes successfully to carbon neutrality and incentivizes users by offering financial incentives, as well as introducing elements of social rewards.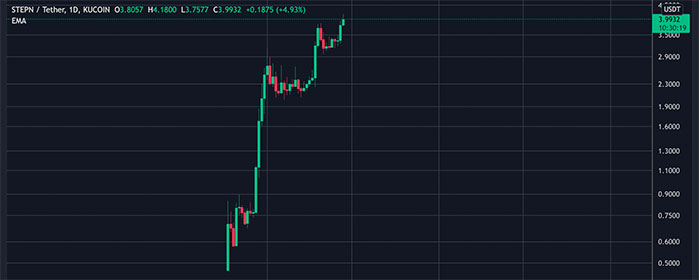 In just five months from the product ideation stage to the open beta release, the application has grown from being available for Android and iOS devices. As STEPN prepares to launch on several more chains in the near future, STEPN plans to optimize its in-game features upon its successful IDO in March 2022.
There is no clear reason behind the latest price rise of STEPN is a red market. Maybe some retail investors are moving their money to this coin, mostly because of FOMO. But ATHs are always somehow worrying because selloffs may happen, and the price can start the correction. Anyhow, STEPN (GMT) is currently among the top trends in the market and has been successful in persuading investors to buy more of the token.
Last but not least, keep in mind that STEPN is enjoying the effects of a hype bubble even though the wider market was in the red. Due to this reason, traders are required to be extra cautious if abrupt changes in the market – or corrections in the market itself – occur.