Even as Bitcoin [BTC] continued to struggle, Solana [SOL] smashed past $106 on August 30 breaking all previous records. Judging by the current price action, seems like there is no stopping Solana and its stunning rally as there could be more room for gains. Here's why:
At a market cap of $30.49 billion, Solana is now the eighth-largest cryptocurrency surpassing USDC and Polkadot. It amassed weekly gains of almost 50%. Many experts are now betting on another bull run for the crypto-asset.
99.9% of the world has never heard of @Solana. Let that sink in.

— Vinny Lingham (@VinnyLingham) August 30, 2021
With Bitcoin hitting a slump, the altcoins have been stuck in a consolidation position. Arguably, SOL has managed to break away from the rest of the crypto market to emerge as a clear performer amidst a market-wide stagnancy. While the world's largest coin is yet to see a revival, the decoupling could boost SOL's price movement.
Chances of Solana's extended rally are high but…
SOL's volatility is at the highest level. While its trading volume is yet to match the mid-May levels, the current figure has firmly supported the uptrend.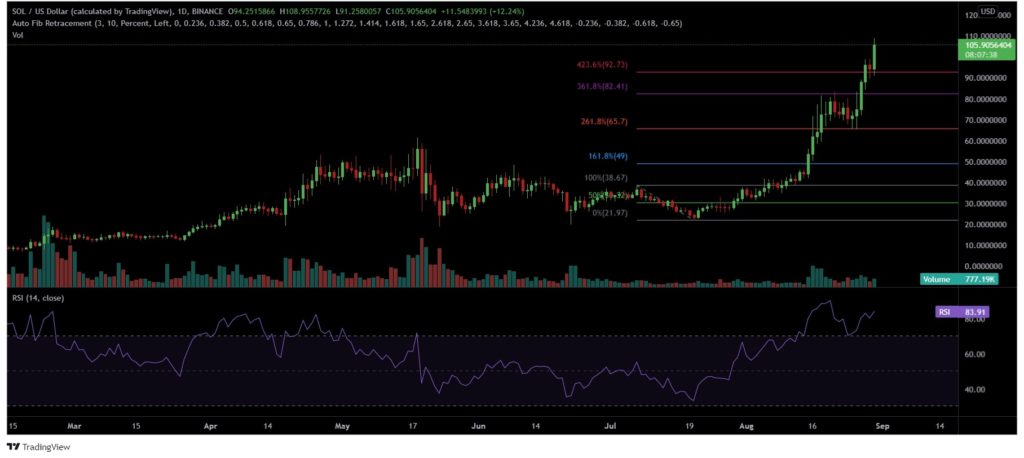 SOL has not escaped from minor corrections and profit-taking but has faired well as opposed to its peers. But the daily Relative Strength Index [RSI] didn't play out in favour of the bulls. As a matter of fact, the bearish divergence and the subsequent overbought reading demonstrated a possibility of a major setback.
But this can be an ideal opportunity to buy SOL. A mild correction could pull SOL towards the demand zone of $65-$82. After finding support in this area, the crypto-asset's dissent is likely to halt.
The overall trend remains bullish and unchanged. Having said that, traders need to be careful that a breach below the 261.1% Fibonacci ratio will put the bulls in a tough spot.
All eyes are on Solana
Of late, Solana has strengthened its status as an outlier in the cryptocurrency market. As investor appetite grew, many key industrial players have started noticing the underdog. One of the main catalysts behind the rally was the thriving NFT market.
Besides, the prominent crypto investment firm CoinShares had recently disclosed in a report about Solana registering larger investment inflows than any other crypto-asset in more than a week, fetching over $7 million in net investments, as opposed to just $3.2 million and a loss of $2.8 million for Ethereum and Bitcoin, respectively.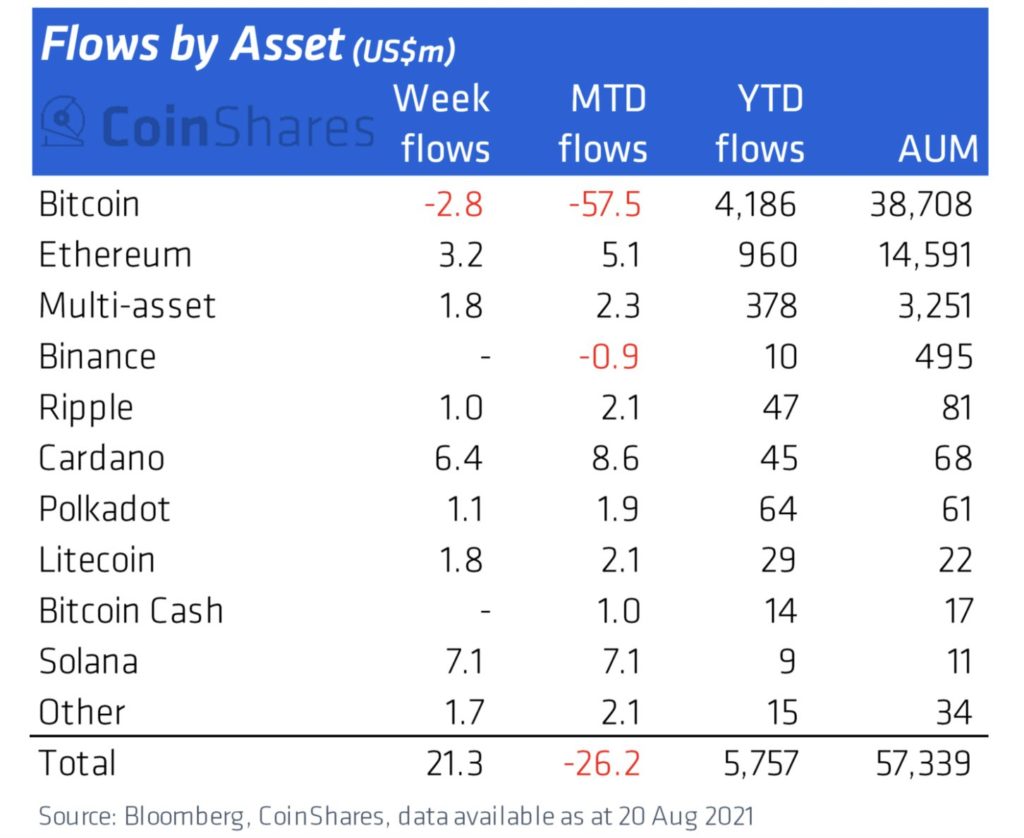 As layer one solutions continue to reaffirm their positions in the sector, Solano appears to have the upper hand owing to its flexible software and faster transaction speed when compared to Ethereum. This could be why it has gained tremendous traction among investors and software developers alike.
---
If you found this article interesting, here you can find more Blockchain and cryptocurrency news